Kilchoman Cognac Finish Single Cask 980/2014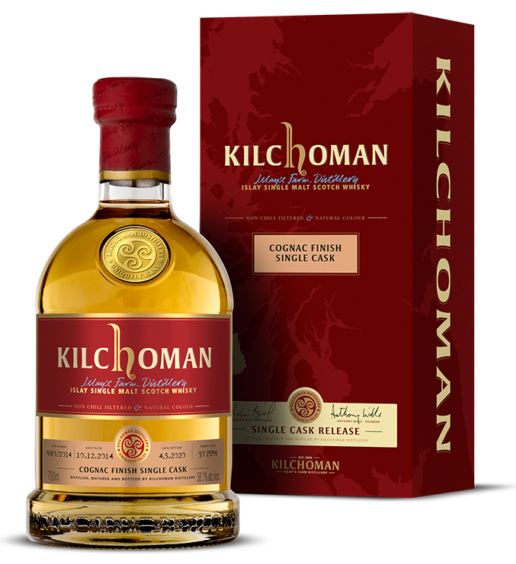 Cask No.: 980/2014
Cask type: 1st Fill Ex-Bourbon Barrel, finished in a Cognac Bossuet Barrique
Date Filled: 10.12.2014
Date Bottled: 4.5.2020
Strength: 58,1 % abv
Phenol level: 50 ppm
Number of bottles: 239
Bottle volume: 0,02 l / 0,7 l
Market: worldwide (via Kilchoman Online Shop)
.
As the 2nd online edition in times of the closed visitor centre, the Kilchoman distillery launched a Cognac Finish Single Cask for the first time on 12 May 2020, which was sold out after only one day. A sample of it had already been tasted at the 3rd Kilchoman Online Tasting with Anthony and James Wills on 3 April 2020.
The Cognac Finish Single Cask is the first visible result of a collaboration with the well-known French spirits entrepeneur Alexandre Gabriel. Not only did he bring Ferrand Cognac to life in 1989 and spearheading the movement for French gins with the creation of Citadelle Gin, distilled in pot stills since 1996, he is also the owner of Plantation Rum, whose products are particularly known for double maturation in different types of casks. After several years ageing in Bourbon barrels on site, the Plantation Rum is then shipped to Château de Bonbonnet in France, where the second maturation process takes place in Ferrand French oak casks. This gives the sweet rum additional tannic notes.
In the meantime, this process has been extended to post-maturing in various other types of casks, including Scotch whisky casks, which is particularly well-known among whisky lovers.
Kilchoman supplied Plantation Rum with a number of their used barrels, and two Plantation Rum bottlings with Kilchoman cask finishing have already appeared on the market. In return, Kilchoman received some Ferrand cognac casks, which are used for finishing but also partly filled with fresh New Make.