Taste Guide: Cognac & Armagnac Cask
Casks in which spirits such as Cognac, Armagnac or Spanish brandy were previously matured are comparatively rarely used in the Scotch whisky industry. This is certainly due, among other things, to the poor availability of these casks. Unlike Sherry, Port or Madeira, where the special production of casks for the Scotch whisky industry through "seasoning" is an important economic mainstay for many bodegas and cooperages, securing the supply of cognac or armagnac casks requires long-established close contacts with the wineries or local cooperages.
For its cognac casks (and also some of the rum casks), Kilchoman relies on a collaboration with the well-known French spirits entrepeneur Alexandre Gabriel. Gabriel not only brought Ferrand Cognac to life in 1989 and has been a pioneer of French gin since 1996 with the creation of Citadelle Gin, which is distilled in pot stills, he is also the owner of Plantation Rum, whose products are particularly known for their double maturation in different types of casks. After an initial maturation in bourbon barrels on site, the Plantation Rum is shipped to Château de Bonbonnet, where the second maturation process takes place in Ferrand cognac casks made of French oak. This gives the sweet rum additional tannic notes.
In the meantime, this process has been expanded to finishing in various other types of casks, including Scotch whisky casks, which is particularly well-known among whisky lovers.
Kilchoman supplied Plantation Rum with a number of their used casks, two Plantation Rum bottlings with Kilchoman cask finishing have already appeared on the market. In return, Kilchoman received some Ferrand cognac casks, which are used for finishing but also partly filled with fresh New Make.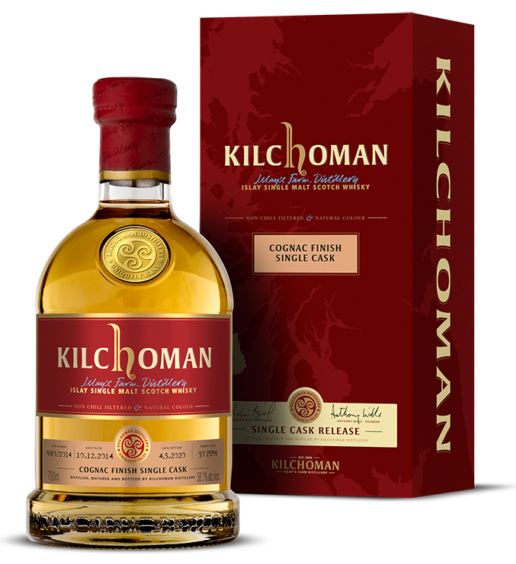 .
On 12 May 2020, Kilchoman's only Cognac Finish Single Cask bottling was released as an Online Shop Exclusive Release and sold out on the same day.
Distilled on 10.12.2014, the whisky was first matured for just under 5 years in a 1st-fill ex-bourbon barrel before being matured in a Cognac Bossuet barrel for 7 months. On 4 May 2020, 239 bottles with an alcohol content of 58.1% were bottled.
In September 2022, the French spirits distributor and Kilchoman importer La Maison Du Whisky released the first Kilchoman Cognac cask maturation. Distilled in 2017, the whisky was matured in a cognac barrel for over 5 years.
.
There have been three Armagnac finish releases from Kilchoman so far. The first was released in autumn 2021 in Germany as part of the Uniquely Islay – An Samhradh 2021 series, the second at the end of 2021 in Taiwan und the third in February 2022 in Slovakia. All three are so-called double cask finish releases, i.e. the whisky was first matured in two bourbon barrels before being finished in one 480 litre Armagnac cask.
The three whiskies released so far were initially matured in bourbon barrels for the same period of time. However, they differ significantly in the length of the Armagnac cask maturation: between 7 months and a whole 14 months.
.
Kilchoman Cognac Cask Releases:
.
Kilchoman Armagnac Double Cask Finish Releases:
.