Kilchoman Genesis: Mashing – Stage 4
With Mashing – Stage 4, the fourth of the eight-bottling Genesis series has now been released. As we reported earlier, the Genesis series, developed by the German Kilchoman importer Hanseatische Weinhandelsgesellschaft Bremen, is a German version of the Small Batch series for selected markets with a higher quality design and packaging and a special marketing story.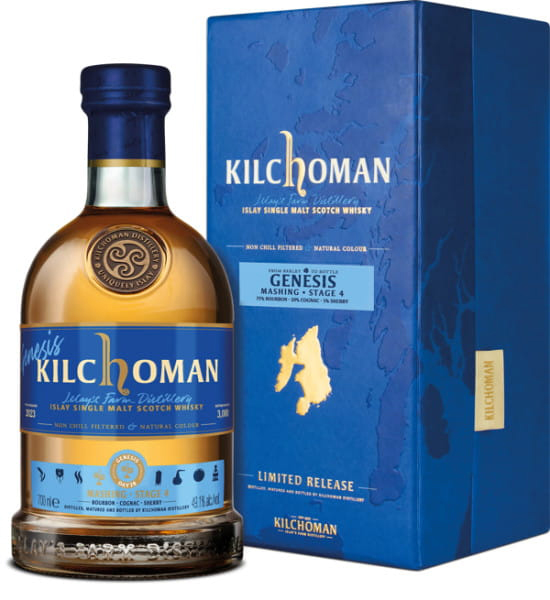 The marketing concept of the Genesis series is to trace the production of Kilchoman whisky "from barley to bottle" with individual bottlings. The eight stages of the at least 1130-day journey (as Kilchoman founder Anthony Wills puts it) from harvesting the barley in the company's own fields, malting, peating, mashing, fermenting, distilling, maturing to bottling, are each to be addressed by a separate bottling, thus honoring the traditions of a farm distillery.
The bottle design of the series is very appealing and the packaging is not the standard Kilchoman cardboard box but the sturdy hinged box that is already known from some Kilchoman special bottlings.
As the name Mashing – Stage 4 suggests, the bottling is dedicated to the 4th production step of Kilchoman whisky making, the mashing of the barley malt grist, i.e. day 28. After peating, the barley first rests before being transported to the Still House for mashing. In the two 1.2-tonne mash tuns, the milled barley malt is mixed with hot water in several passes at ascending temperature levels and carefully stirred. In the process, the fermentable sugars are extracted from the crushed barley grains. The resulting sweet liquid "wort" is slowly drained – Kilchoman wants to achieve clear worts for a clean whisky – and pumped into the wash backs. The 5th Genesis release will then be dedicated to the following production step of fermenting.
.
.
Genesis Mashing – Stage 4 is a small batch release with 75% bourbon, 5% oloroso sherry and 20% cognac casks. The basis of the Small batch series for selected markets introduced in summer 2019 is, simply put, a Machir Bay vatting with 46% alcohol, to which another special type of cask is then added. Small batch releases with a cognac cask content are still very rare. The importer emphasises that Genesis 4, like all bottlings in the series, is a whisky made from both 20 ppm peated whisky from the Kilchoman Kiln and 50 ppm peated whisky from the Port Ellen Maltings. This means that the three cognac casks added are 100% Islay casks, the Machir Bay base of the whole thing is peated at 50 ppm, as is well known.
.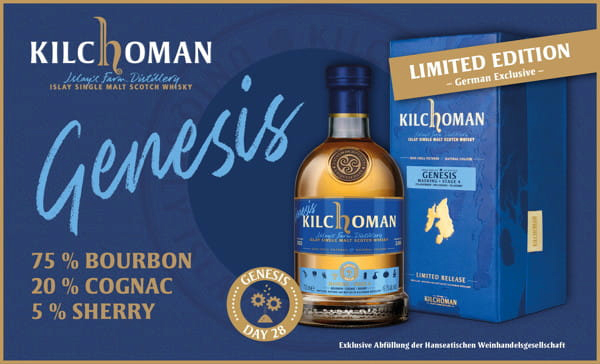 .
This mixing of the two differently peated production lines, as practised in the Genesis series, is completely unusual at Kilchoman, but was necessary here in order to do at least some justice to the marketing story through the partial use of 100% Islay casks produced entirely at Kilchoman.
The alcohol content of the bottling is 49.1%, the edition was reduced to 3.000 bottles.
.