New Kilchoman Single Cask Series "Italian Cities" launched with Blanc de Blancs Cask Finish 1100/2016
With "Italian Cities", the Italian Kilchoman importer Beija-Flor has started a series of Kilchoman single cask bottlings dedicated to the most important Italian cities. The first bottling now released, one of the still very rare Blanc de Blancs Cask finishings, is dedicated to the northern Italian metropolis of Milan. The label is adorned with two of Milan's most famous sights: the cathedral and the entrance to the Galleria Vittorio Emanuele.
Blanc de Blancs white wine casks from Champagne are known to be the latest "experimental casks" with which Kilchoman lets us participate in the maturation or finishing of its distillate in different types of casks. Since the summer of 2023, a handful of Blanc de Blancs Single Cask Finishes have appeared in Germany, the USA, Canada and in the Kilchoman Distillery Shop. Now, Italian whisky lovers will also be able to enjoy such a bottling. The whisky was first matured for over five years in an ex-Buffalo Trace bourbon barrel to be decanted in 2022 in a Blanc de Blancs cask and finished in it for over a year.
The bottling can currently be purchased online at whiskyshop.it for 120 euros.
.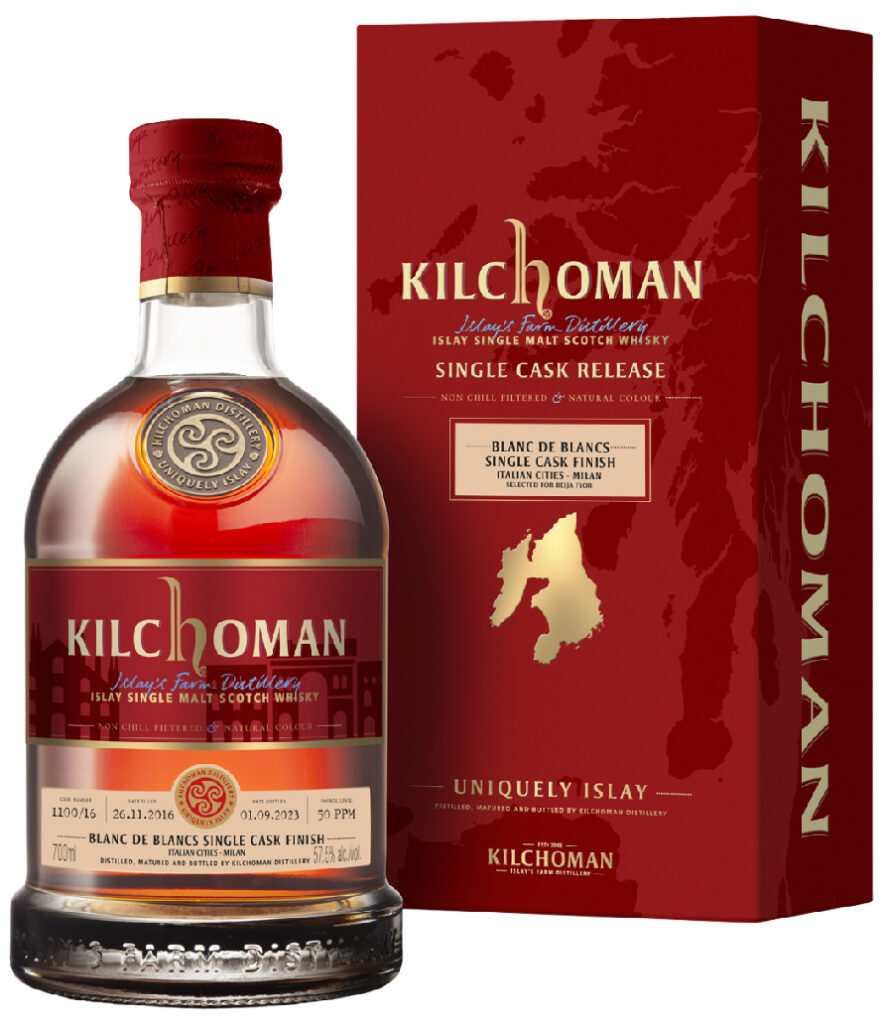 Cask No.: 1100/2016
Cask type: Ex-Bourbon Barrel, Blanc de Blancs Cask Finish
Date Filled: 26.11.2016
Date Bottled: 1.9.2023
Age: 6 yo
Strength: 57,5 % abv
Phenol level: 50 ppm
Number of bottles: 247
Bottle volume: 0,7 l
Bottle code: SC 01/09/23 23/140
Barcode: 5 060210 707385
Market: Italy
.
.