Kilchoman Exclusive Selection No. 1 (Small Batch Release for Le comptoir Irlandais, France)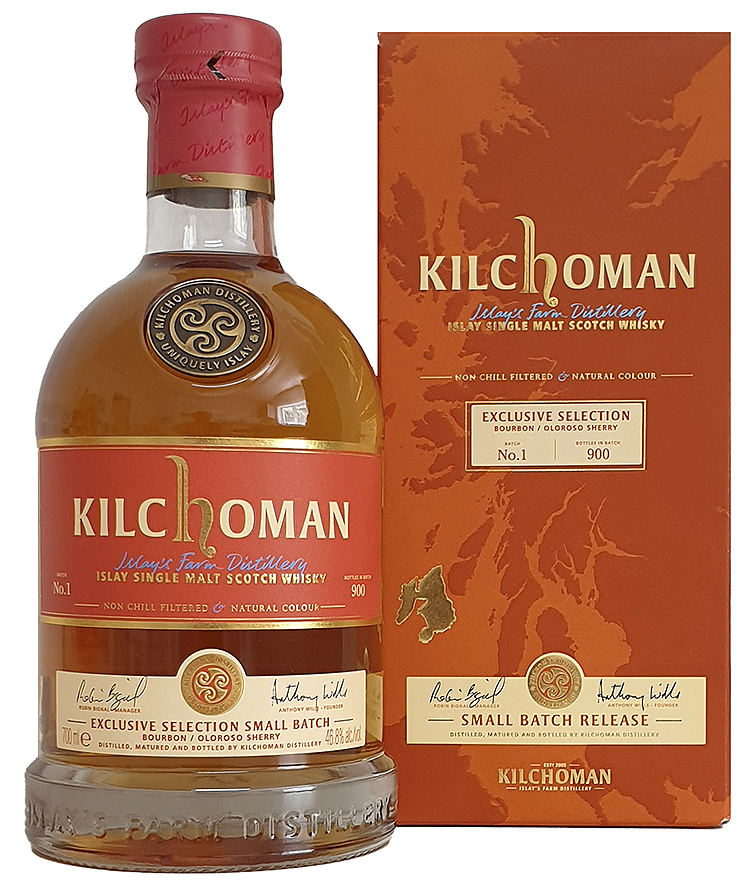 Cask type: 85 % Bourbon Barrels / 15 % Oloroso Sherry Casks
Age: NAS
Bottling Date: 4.9.2019
Strength: 46,8 % abv
Phenol level: 50 ppm
Number of bottles: 900
Bottle size: 0,7 l
Bottle code: SBR 04.09.19 19/121
Market: France
.
The basis of the whiskies in the 2019 introduced new series of Small Batch Releases for selected markets is always an already finished Machir Bay vatting or Machir Bay Collaborative Vatting , i.e. a whisky with 46% alcohol strength, which was previously matured for 3-5 years predominantly in bourbon barrels and 5-15% in oloroso sherry casks. This vatting is then married with an additional special cask.
For the Exclusive Selection No. 1 the additional cask is as in the Sweden Small Batch No. 1 a bit unorthodox, but still consequent concerning the whole series, an Oloroso Sherry-Hogshead. The result is 85% Bourbon, and 15% Sherry.
The first three small batch releases for the French market appeared under the name "Exclusive Selection" from 2019 to 2021. Apart from the French designation, they differ from the other worldwide small batch releases primarily in that they were not released by the national importer (in France, that would be La Maison du Whisky, which did not release the first small batches until 2022) but by a single shop, namely Le comptoir Irlandais. Incidentally, the name Le comptoir Irlandais is not indicated on the bottles or the packaging.