Kilchoman Mezcal Single Cask Finish 728/2013 for AWAS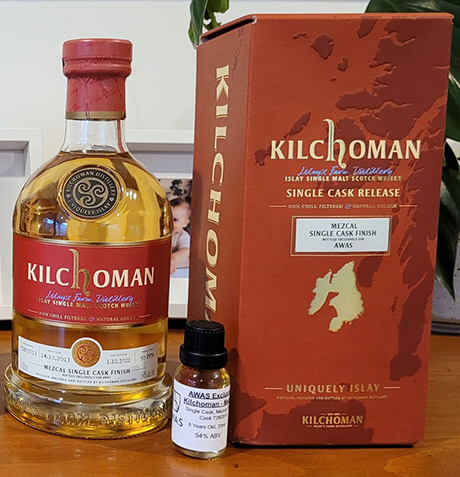 Cask No.: 728/2013
Cask type: Ex-Bourbon Barrel, Mezcal Cask Finish
Date Filled: 14.10.2013
Date Bottled: 1.12.2021
Age: 8 yo
Strength: 54,0 % abv
Phenol level: 50 ppm
Bottle volume: 0,7 l
Distribution: Australia – AWAS
.
In mid-June 2022, the Australian Whisky Appreciation Society (AWAS) released two exclusive Kilchoman Single Cask bottlings: a seven-year-old Sauternes Single Cask Finish and an eight-year-old Mezcal Single Cask Finish mentioned here. Both releases were Kilchoman firsts of the corresponding cask type on the Australian market. It was also the first time that two Kilchoman single cask bottlings for Australia were released simultaneously.
In the case of the Mezcal Cask Finish, the whisky was matured for over 7 years in a bourbon barrel before being finished in a Mezcal cask for 11 months.
A very informative tasting can be read on the Australian blog Peated Perfection.