Kilchoman Private Refill Sherry Cask 262/2010 for Arno´s 2nd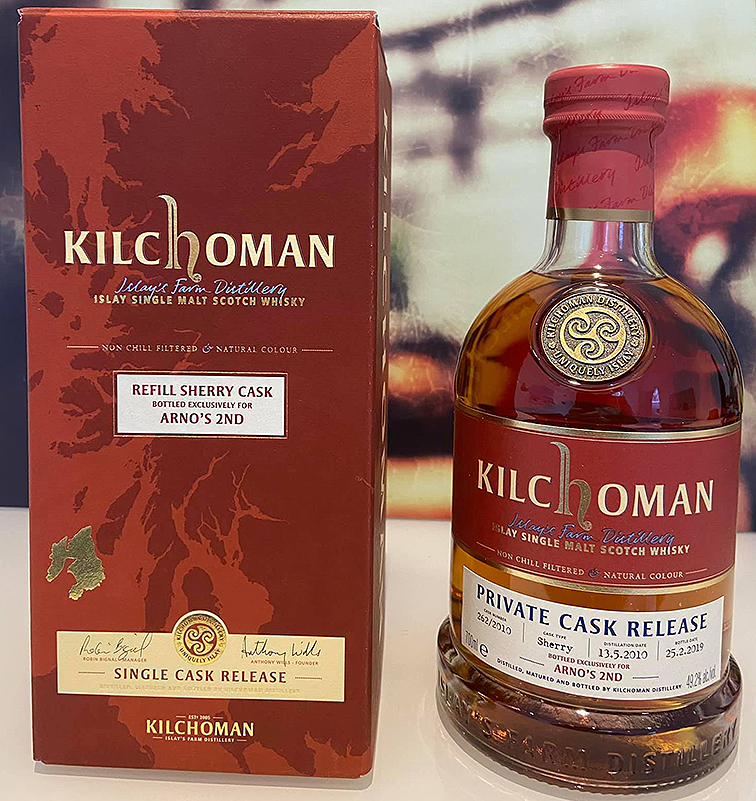 Cask No.: 262/2010
Cask type: Refill Oloroso Sherry Quarter Cask
Distillation Date: 13.4.2010
Bottling Date: 25.2.2019
Age: 8 yo
Strength: 49,2 % abv
Phenol level: 50 ppm
Number of bottles: 87
Bottle volume: 0,7 l
Distribution: Private Cask
.
This is a very special Private Cask Release, not only because of the unusual cask type, but because it is one of the few cases where Kilchoman has filled an externally owned cask.
A German Whisky fan first had his fresh Sherry Quarter Cask matured at Springbank from May 2001 until early 2010. The Springbank Private Bottling then appeared under the name "Arno`s 1st" (Springbank 2001 Private Bottling – Ratings and reviews – Whiskybase). He then had the cask transported to Kilchoman where it was refilled with Kilchoman New Make as a now Refill Sherry Quarter Cask on 13 May 2010 and bottled again after a good 8 years under the name "Arno's 2nd". Rumour has it that it now faces a third life at the German distillery St. Kilian.
This bottling promises a taste experience that might differ significantly from what we usually know from Kilchoman. More than 8 years in a Refill Quarter Cask lead us to expect an overwhelming sherry aroma and then the exciting question remains, to what extent one can still perceive the Springbank first filling. We hope to be able to come up with a taste description shortly!
.