Kilchoman Sanaig (General Release, since 2016)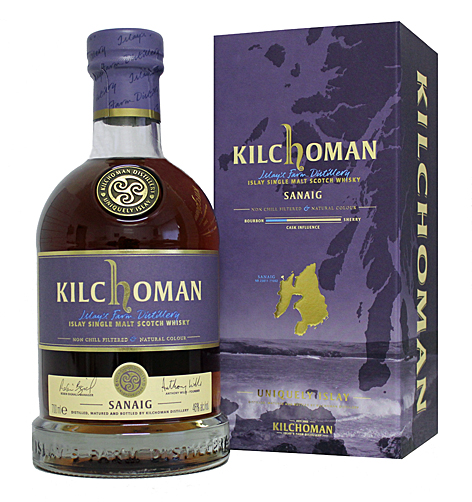 Cask type: Oloroso Sherry Casks & Ex-Bourbon Barrels
Bottled: since 2016
Age: NAS
Strength: 46,0 % abv
Phenol level: 50 ppm
Bottle volume: 0,02 l / 0,05 l / 0,2 l / 0,7 l / 0,75 l
Bottle Codes: see: List of Sanaig Batches (Work in Progress)
Distribution: worldwide
.
In february 2016 Kilchoman distillery announced that its sherry cask-influenced NAS malt Sanaig, named after an inlet north west of the distillery, will join Machir Bay as the distillery´s core range. Sanaig has a heavy oloroso cask influence in contrast to the predominantly ex-Bourbon cask-matured Machir Bay. Both continuously matured oloroso sherry casks – namely the smaller sherry hogsheads – and bourbon casks that received a sherry finish are used.
To highlight the contrasting characters of the two main expressions, the packaging for each will now feature a "cask influence bar". Kilchoman Sanaig was initially launched in 2015 in France, Germany, Belgium and the Netherlands, but will now be rolled out across all the brand's markets, including the US, Canada, UK, Sweden, Taiwan, Russia and Poland.
Anthony Wills said: "Sanaig represents another significant step forward for Kilchoman; it is important to be able to offer customers consistently available releases. Until now Machir Bay has been performing that leading role, Sanaig will now share the spotlight."
Just like Machir Bay, Sanaig is bottled in batches. The individual batches differ relatively little from each other. The so-called "dark batches", the first of which was released at the end of 2019, caused discussion among whisky fans. Their colour is significantly darker than that of the previous "normal" batches, even darker than the Loch Gorm. The difference in colour was initially only a coincidence of some particularly colour-active sherry casks used in this batch, taste-wise the difference to the lighter batches is minimal. However, it quickly became apparent that the "dark batches" sold much better than the lighter variants. Unfortunately, the whisky world still ticks in such a way that dark colour promises quality and age.
Therefore, Kilchoman is now deliberately trying to achieve a darker hue and has asked Bodega Miguel Martin, from whom Kilchoman sources all its sherry casks, to supply appropriate active casks. Exactly how Miguel Martin achieves this is its secret, but it should not be a problem, according to Anthony Wills…
.
.