Kilchoman 100% Islay 13th Edition announced
Kilchoman today announced the release of its new annual 100% Islay Limited Release. It is due to be available at retailers worldwide later this week.
This year's 13th release is a vatting of 44 ex-bourbon barrels that were matured for over 8 years in Kilchoman warehouses. The barley used was of the Publican variety, harvested at Rockside Farm in 2012, 2013 and 2014. As usual with the 100% Islay range, the whisky was bottled with an alcohol content of 50.0%. The edition size is 13,000 bottles.
The special feature of this year's edition is primarily that it is a bourbon cask-only maturation, as was the case with the early 100% Islay releases. The addition of some sherry casks to the vatting, which first took place in 2018 and has been the norm since 2020, had certainly led to negative reactions from Kilchoman fans, who still wanted a pure bourbon cask maturation. Now their wish has come true. Anthony Wills wrote that he chose mostly 1st fill ex-bourbon barrels for this year's bottling. In terms of taste, this suggests vanilla and caramel notes, which combine with the typical Kilchoman citrus and fruit notes.
The 13th edition is the second 100% Islay limited release containing only whisky distilled from Publican barley. As with last year's release, the fruitiness is best described as tropical fruit ("pineapple note") and no longer has the strawberry note that was so typical of the Optic barley variety grown in the early Kilchoman years.
Anthony Wills, Kilchoman founder and managing director wrote: "The 13th Edition is the first release since 2019 where I have opted for solely bourbon barrels. The 44 bourbon barrels that I selected are predominantly fresh casks, this gives the whisky lovely layers of buttery vanilla and caramel flavours which pair beautifully with the citrus sweetness of our spirit."
.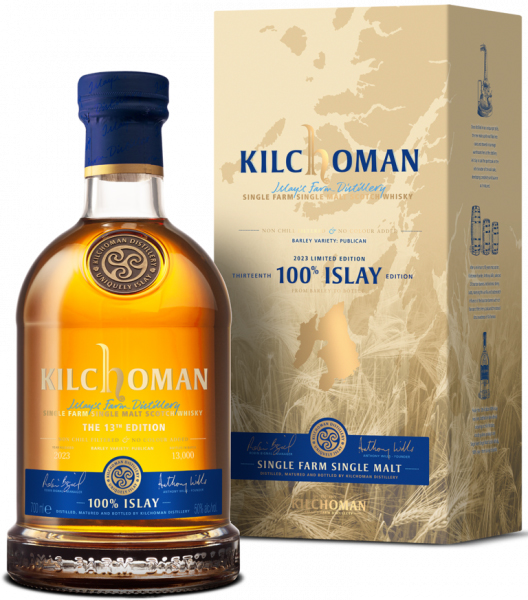 Cask type: Bourbon Barrels
Date Filled: 2013, 2014, 2015
Date Bottled: 08 & 09/2023
Age: 8 yo
Strength: 50,0 % abv
Phenol level: approx. 20 ppm
Number of bottles: 13.000
Bottle volume: 0,7 l / 0,75 l
Bottle code: 100 24/08/23 23/128
Barcode: 5 060210 707026
Distribution: worldwide
.