Kilchoman 100% Islay 13th Edition angekündigt
Kilchoman kündigte heute das Erscheinen der neuen jährlichen 100% Islay Limited Release an. Sie soll noch im Laufe dieser Woche bei den Händlern weltweit erhältlich sein.
Die diesjährige 13. Ausgabe ist ein Vatting von 44 Ex-Bourbon Barrels, die für über 8 Jahre in den Kilchoman-Lagerhäusern reiften. Verwendet wurde Gerste der Sorte Publican, die auf der Rockside Farm in den Jahren 2012, 2013 und 2014 geerntet wurde. Wie bei der 100% Islay-Reihe üblich, wurde der Whisky mit einem Alkoholgehalt von 50,0 % abgefüllt. Die Auflagenhöhe beträgt 13.000 Flaschen.
Das Besondere der diesjährigen Ausgabe besteht vor allem darin, dass es sich um eine reine Bourbonfass-Reifung handelt, wie das bei den frühen 100% Islay-Releases der Fall war. Die erstmals 2018 erfolgte und seit 2020 übliche Zugabe einiger Sherryfässer zum Vatting hatte durchaus zu ablehnenden Reaktionen bei Kilchoman-Fans geführt, die sich weiterhin eine reine Bourbonfass-Reifung wünschten. Nun ist ihr Wunsch in Erfüllung gegangen. Anthony Wills schrieb, dass er für die diesjährige Abfüllung überwiegend 1st Fill Ex-Bourbon Barrels auswählte. Geschmacklich lässt das Vanille- und Karamellnoten erwarten, die sich mit den typischen Kilchoman-Zitrus- und Fruchtnoten verbinden.
Die 13. Edition ist die zweite 100% Islay Limited Release, die ausschließlich Whisky enthält, der aus Publican-Gerste destilliert wurde. Wie schon bei der letztjährigen Release lässt sich die Fruchtigkeit am besten mit tropischen Früchten ("Ananasnote") beschreiben und weist nicht mehr die Erdbeernote auf, die für die in den frühen Kilchoman-Jahren angebauten Gerstensorte Optic so typisch war.
Anthony Wills, Kilchoman-Gründer und Managing Direktor schrieb: "The 13th Edition is the first release since 2019 where I have opted for solely bourbon barrels. The 44 bourbon barrels that I selected are predominantly fresh casks, this gives the whisky lovely layers of buttery vanilla and caramel flavours which pair beautifully with the citrus sweetness of our spirit."
.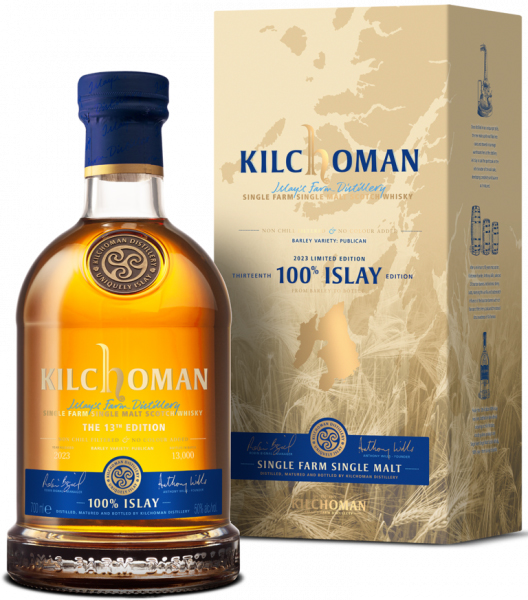 Fassart: Bourbon Barrels
Fässer befüllt: 2013, 2014, 2015
Flaschenabfüllung: 08 & 09/2023
Alter: 8 Jahre
Alkoholstärke: 50,0 %
Phenolgehalt: ca. 20 ppm
Flaschenanzahl: 13.000 Flaschen
Flaschengröße: 0,7 l / 0,75 l
Bottle Code: 100 24/08/23 23/128
Barcode: 5 060210 707026
Vertrieb: weltweit
.