Kilchoman Belgium & Luxembourg Small Batch No. 3
At the end of the year 2022, the Belgian Kilchoman importer The Nectar now already released the 3rd bottling from the Small Batch series. For the first time, Luxembourg is mentioned on the label in addition to Belgium.
The basis of the whiskies in the series of Small Batch Releases for selected markets, which began in 2019, is an already finished Machir Bay vatting or Machir Bay Collaborative Vatting , i.e. a whisky with 46% alcohol strength, which was previously matured for 3-5 years predominantly in bourbon barrels and 5-15% in oloroso sherry casks. This vatting is then married with an additional special cask.
For the Belgium & Luxembourg Small Batch No. 3 the additional cask is a Sauternes wine cask. The proportions are given as 70% bourbon, 5% (oloroso) sherry and 20% Sauternes. However, a typing error has obviously crept in here: either 75% Bourbon or 25% Sauternes should be correct.
.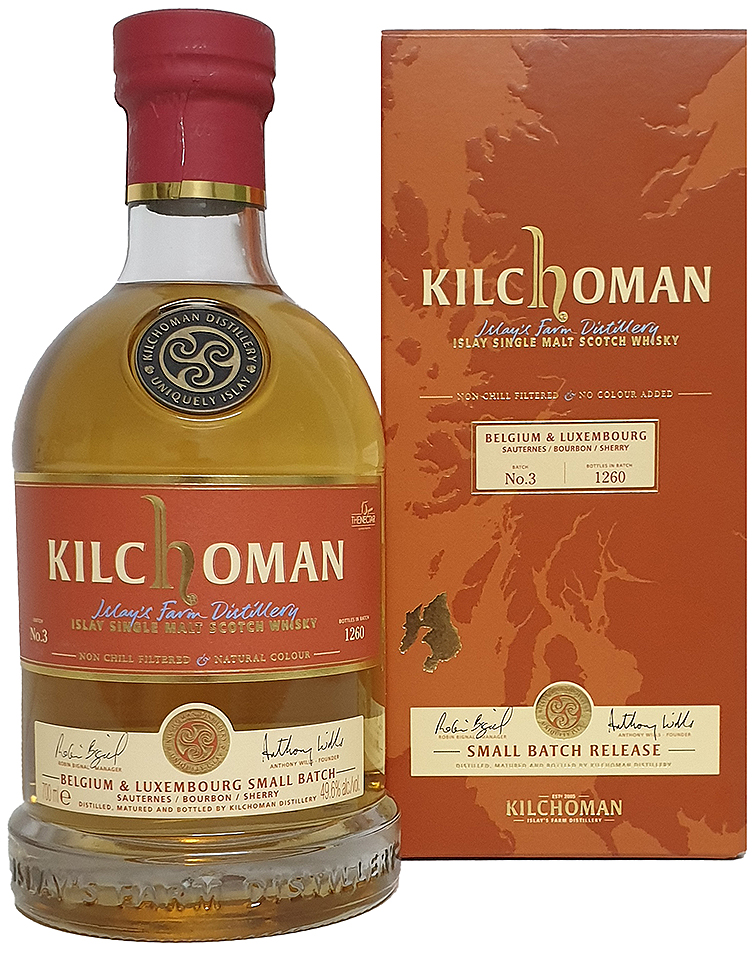 Cask type: 70 % (?) Bourbon Barrels / 5 % Oloroso Sherry Casks / 20 % (?) Sauternes
Age: NAS
Date Bottled: 19.10.2022
Strength: 49,6 % abv
Phenol level: 50 ppm
Number of bottles: 1.260
Bottle volume: 0,7 l
Bottle code: SB 19.10.22 22/137
Barcode: 5 060210 706340
Market: Belgium & Luxembourg
.
.