Taste Guide: Sauternes Cask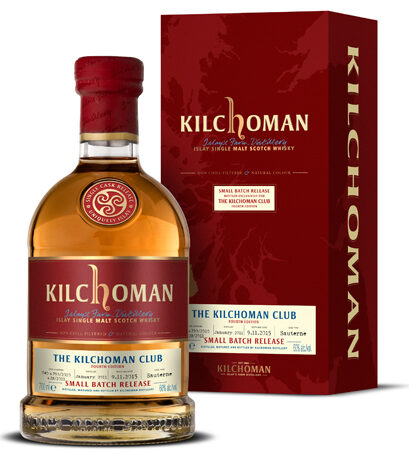 The first "Sauterne(s) Cask Release" from Kilchoman appeared on November 16, 2015 exclusively for members of the Kilchoman Club. For this 4th Club Release, three fresh Sauternes hogsheads were selected that had been filled in November and December 2010 and January 2011.
The first Sauternes Matured Limited Release then followed a year later on September 7, 2016, continuing the series of annual wine cask maturations. Distilled in late 2010 / early 2011, the whisky was matured for over 5 years in French Sauternes casks.
Anthony Wills was not entirely satisfied with this bottling, however. In his opinion, the Sauternes influence here has turned out too dominant and overlays too much the typical Kilchoman notes. For the second Kilchoman Sauternes release, he therefore opted for a Sauternes finish rather than full maturation. The "Sauternes Cask Finish Limited Release 2018" released on October 1, 2018 is a vatting of 30 bourbon barrels from 2012, which were subjected to a 5-month finish in Sauternes hogsheads.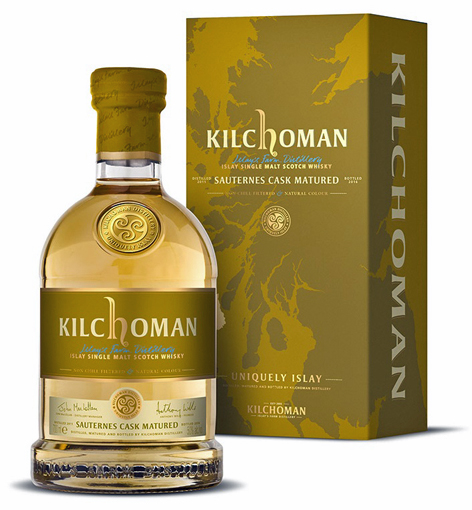 Sauternes single cask bottlings are relatively rare. To date, only a handful of Sauternes single cask full maturations and Sauternes finishings of whisky previously aged in bourbon barrels with finishing times between 4 months and a good year, have appeared worldwide, .
Within the Small Batch series for selected markets, the concept of which is known to illustrate the influence of different "experimental" cask types on Kilchoman whisky, 2021 was the "Sauternes year". Small Batch releases with a Sauternes content of 20% or 25% appeared in a number of countries.
.
Sauternes Cask bottlings from Kilchoman (finish and full maturation)
.
| Release | Cask No. | Distilled | Bottled | Maturation |
| --- | --- | --- | --- | --- |
| Small Batch Release for The Kilchoman Club, 4th Edition | 740/2010, 790/2010, 28/2011 | 17.11.2010, 08.12.2010, 26.01.2011 | 09.11.2015 | Full maturation |
| Sauternes Cask Matured Release | | 11/2010-01/2011 | 09/2016 | Full maturation |
| Single Sauternes Cask for Delilah´s & Jack Rose | 26/2011 | 26.01.2011 | 05.09.2016 | Full maturation |
| Sauternes Single Cask for The Distillery Shop | 739/2010 | 17.11.2010 | 19.07.2017 | Full maturation |
| Private Single Sauternes Cask for Kilchoman Invest | 792/2010 | 08.12.2010 | 23.02.2018 | Full maturation |
| 5 yo Sauternes Hogshead for LMDW´s Islay Room | 902/2015 | 18.11.2015 | 26.04.2021 | Full maturation |
| Sauternes Matured Single Cask for Kilchoman Appreciation Society | 903/2015 | 18.11.2015 | 13.04.2022 | Full maturation |
| | | | | |
| Sauternes Finish Single Cask for The Distillery Shop | 209/2012 | 24.04.2012 | 29.09.2017 | Finish: 4 month |
| Sauternes Wine Cask (Finish) for Whisk-e Ltd, Japan | 211/2012 | 26.04.2012 | 15.01.2018 | Finish: 8 month |
| Sauternes Single Cask Finish for Bresser & Timmer, 25th Anniversary | 212/2012 | 26.04.2012 | 15.06.2018 | Finish: 1 year |
| Sauternes Cask Finish 2018 Edition | | 2012 | 25.09.2018 | Finish: 5 month |
| Sauternes (Finish) Single Cask (Uniquely Islay Series – An Samhradh 2021 #3/9) | 738/2013 | 17.10.2013 | 17.06.2021 | Finish: 6 month |
| Sauternes Finish Single Cask | 706/2014 | 24.09.2014 | 01.07.2021 | Finish: 6 month |
| Sauternes Finish Single Cask for La Société des Alcools du Québec | 731/2013 | 14.10.2013 | 03.08.2021 | Finish |
| Sauternes Single Cask Finish for Taiwan | 732/2013 | 14.10.2013 | 09.08.2021 | Finish |
| Sauternes Single Cask Finish for Taiwan | 711/2014 | 24.09.2014 | 09.08.2021 | Finish |
| Sauternes Single Cask Finish for Gall & Gall The Netherlands | 704/2014 | 24.09.2014 | 24.09.2021 | Finish: 9 month |
| 7 yo Sauternes Single Cask (Finish) – ImpEx Cask Evolution 04/2021 | 708/2014 | 24.09.2014 | 25.09.2021 | Finish: 9 month |
| Sauternes Single Cask Finish – Wedding Cask for Łukasz Gołębiewski | 716/2014 | 24.09.2014 | 22.11.2021 | Finish: 11 month |
| Sauternes Single Cask Finish for AWAS | 710/2014 | 24.09.2014 | 01.12.2021 | Finish: 11 month |
| Sauternes Finish Single Cask [for Small Markets] | 707/2014 | 24.09.2014 | 10.01.2022 | Finish |
| Sauternes Single Cask (Finish) – Uniquely Islay Series – An t-Earrach 2022 (#3/10) | 730/2013 | 14.10.2013 | 01.03.2022 | Finish: 14 month |
| Sauternes Single Cask Finish for SMCC (Camping Series, #4) | 712/2014 | 24.09.2014 | 09.03.2022 | Finish |
| | | | | |
| China Small Batch No. 2 | | | 04.04.2021 | 70% Bourbon, 10% Oloroso Sherry, 20% Sauternes |
| USA Small Batch No. 5 | | | 07.05.2021 | 70% Bourbon, 5% Oloroso Sherry, 25% Sauternes |
| Exclusive Selection No. 2 (2021) | | | 09.06.2021 | 70% Bourbon, 5% Oloroso Sherry, 25% Sauternes |
| Poland Small Batch No. 1 | | | 30.06.2021 | 70% Bourbon, 5% Oloroso Sherry, 25% Sauternes |
| UK Small Batch No. 3 | | | 2021 | 70% Bourbon, 5% Oloroso Sherry, 25% Sauternes |
| Sweden Small Batch No. 2 | | | 28.10.2021 | 75% Bourbon, 5% Oloroso Sherry, 20% Sauternes |
| Genesis Stage 2: Malting | | | 22.11.2021 | 75% Bourbon, 5% Oloroso Sherry, 20% Sauternes |
| French Inspiration #2 (Small Batch for France) | | | 07.04.2022 | 75% Bourbon, 5% Oloroso Sherry, 20% Sauternes |
| Korea Small Batch No. 1 | | | 2022 | 75% Bourbon, 5% Oloroso Sherry, 20% Sauternes |