Kilchoman Sauternes Single Cask Finish 729/2013 for DrankDozijn "Mealach"
After the well-known Dutch online spirits retailer drankdozijn (D12) had just released its fifth Kilchoman Single Cask Release with "Ubhal", the sixth is now already following under the name "Mealach". Previously, "Blond" and "Auburn" were released at the end of 2020, "Lava" in mid-2021, and "Añejo" at the end of 2021.
"Mealach" means "sweet" in Gaelic, which is a clear indication of the type of cask used this time: Sauternes wine casks are often said to give the whisky matured in them a honey-sweet note.
The whisky was first matured for more than 7 years in an ex-bourbon barrel and then finished for 16 months in a Sauternes wine cask.
The bottles are sold for 112,95 €.
As the observant Kilchomania reader may have noticed, a number of new Sauternes finish bottlings have been released during 2022. The Kilchomania tasting panel is currently engaged in a major comparative tasting of these releases, and we will present the results here shortly.
.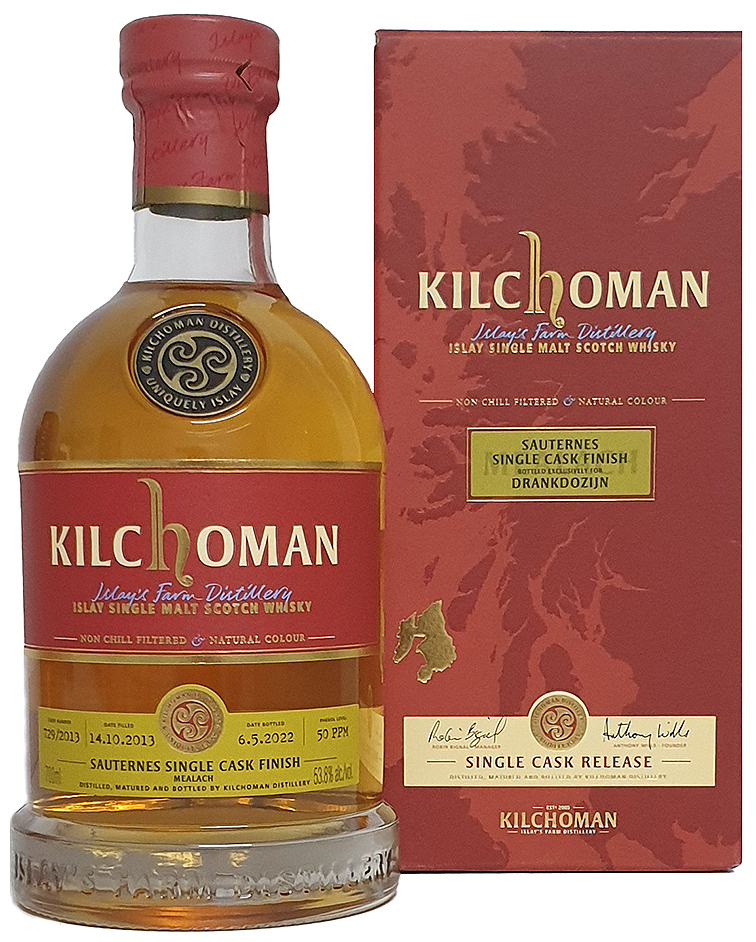 Cask No.: 729/2013
Cask type: Ex-Bourbon Barrel, Sauternes Cask Finish
Date Filled: 14.10.2013
Date Bottled: 6.5.2022
Age: 8 yo
Strength: 53,8 % abv
Phenol level: 50 ppm
Number of bottles: 256
Bottle volume: 0,7 l
Barcode: 5 060210 706081
Market: The Netherlands