New Machir Bay Cask Strength Limited Edition released
After a series of smaller Machir Bay Cask Strength releases on the occasion of the previously so popular Kilchoman Tasting Tours in Europe, Asia and the USA, Kilchoman had already released a Machir Bay Cask Strength Limited Edition at Christmas 2020 in response to many customer requests, thus making it possible for a wider circle of whisky fans to try an undiluted Machir Bay.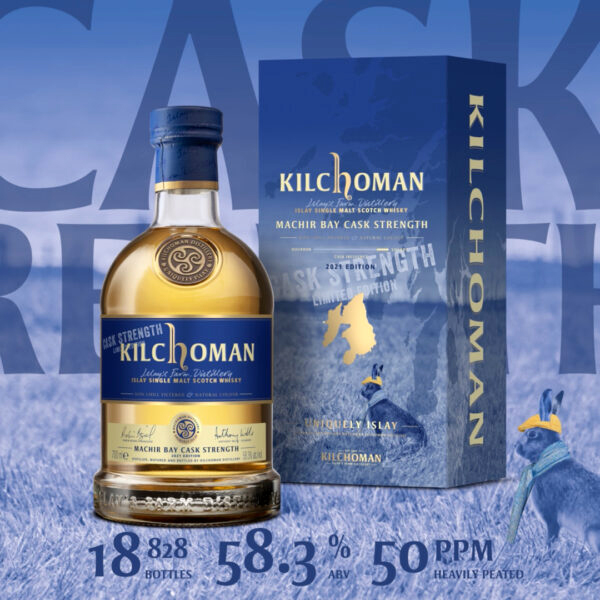 This bottling resulted in an overwhelmingly positive echo among whisky fans, as it showed the Kilchoman Standard Release from an even more fruity side in terms of taste, and so Kilchoman planned to release the second Machir Bay Cask Strength Limited Edition for the end of 2021. At that time, however, a problem with the delivery of empty bottles, which has already been mentioned here several times, occurred, which led to the postponement of several bottlings. And so the Cask Strength Release had to be postponed as well.
Now it has finally been released. The again very attractively designed boxes were not newly made for cost and environmental reasons and so a 2021 Limited Edition imprint adorns the packaging, which might cause some confusion.
18,828 bottles were bottled at an alcohol strength of 58.3%. We were already able to taste the release, as the French Kilchoman importer LMDW had it in their range very early. It proved to be a great whisky again, is very similar in taste to the first release and should therefore be sold out quickly.
.
Cask types: Vatting of Ex-Bourbon Barrels (approx. 90 %) and Oloroso Sherry Casks (approx. 10 %)
Date Bottled: Oktober 2022
Age: approx. 3-5 years
Strength: 58,3 % abv
Phenol level: 50 ppm
Bottle volume: 0,7 l / 0,75 l
Number of bottles: 18.828
Bottle Codes:
MBS 21.10.22 22/194
MBS 24.10.22 22/194
Distribution: worldwide