Kilchoman Casado Limited Release announced
In August 2020, Kilchoman installed two new vatting tanks (containers for marrying larger whisky releases) for maturation experiments, which are not made of stainless steel like the standard ones, but of wood from former Portuguese red wine casks (we reported).
The vatting tanks were made according to Kilchoman's specifications by the Dias cooperage from Portugal, which has been supplying Kilchoman with casks for several years (among other things, they make the STR casks for Kilchoman). The wood was shaved, toasted and re-charred, practically two huge STR casks were produced here. The two vats were charred to different degrees (char level 2 and 3), which should have a slightly different impact on the whisky stored in them.
After instillation the two vats, each holding 6,000 litres, were filled with the contents of 19 fresh ex-bourbon barrels each from 2014 (and not 2016 as previously reported).
After two years of being married, the contents of both vats have now been bottled under the name Casado (Portuguese for marriage). So the hope we expressed earlier of being able to compare the two different charring levels in two separate bottlings has not been fulfilled.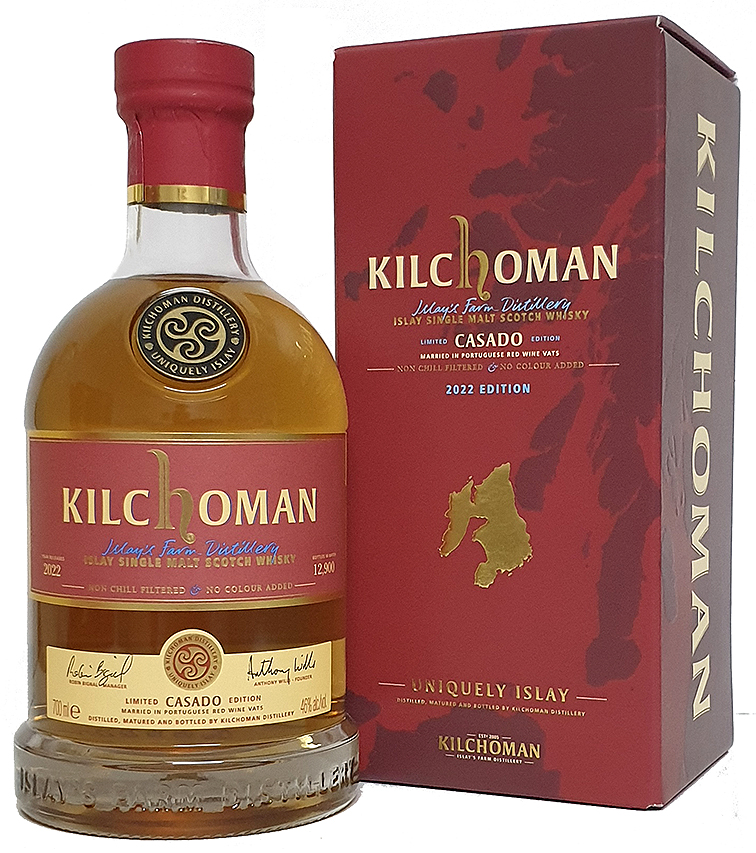 The bottling of 12,900 bottles should be available at retailers worldwide in the course of this week.
Kilchoman founder Anthony Wills wrote: "The red wine marriage gives the whisky layers of red fruit and spices which complement the vanilla and butterscotch influence of the bourbon barrels beautifully".
.
Cask type: 1st Fill ex-Bourbon Barrels, married in Portuguese Red Wine vats
Date Filled: 2014
Date Bottled: 10/2022
Age: 6 yo (the time in the vatting tanks does not count according to SWA regulations)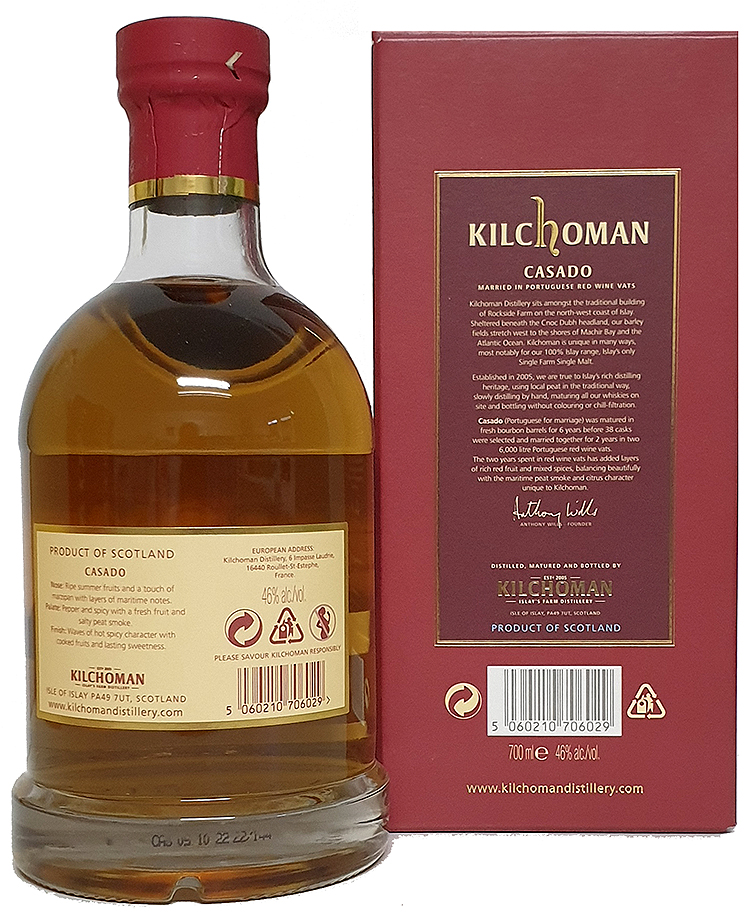 Strength: 46,0 % abv
Phenol level: 50 ppm
Number of bottles: 12.900
Bottle volume: 0,7 l / 0,75 l
Bottle code: CAS 05.10.22 22/144
Barcode: 5 060210 706029
Distribution: worldwide
.
.