Kilchoman Comraich Online Tasting announced
After a few months break, Kilchoman has started the series of popular online tastings again. Tomorrow, 16 September, Kilchoman fans can look forward to a "100% Islay Tasting", and today the next tasting has already been announced. It will take place on 21 October at 7pm GMT.
The theme of the tasting this time will be the Comraich releases, i.e. the special bottlings for the bars of the same name, which can only be tasted there (and recently and certainly for a short time in the Kilchoman visitor centre) and do not reach the trade.
In the meantime, there is a worldwide network of whisky bars that are distinguished by an exceptional range of whiskies in general and Kilchoman whiskies in particular and have been given the status of a Comraich Bar by Kilchoman. An overview can be found here.
.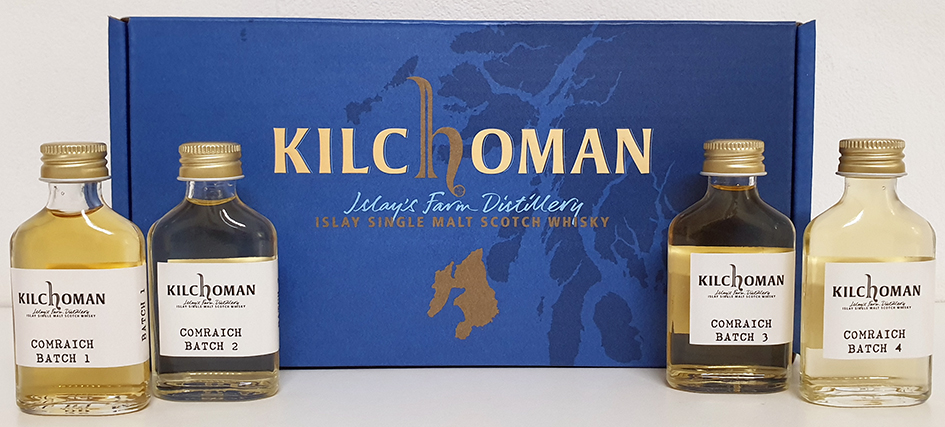 .
Tasting participants will now get the rare opportunity to taste all four previous editions. As always, the Tasting Packs can be purchased for £16.66 + tax and shipping on the Kilchoman homepage. They will again be shipped in the newly developed Kilchoman Sample Box, which offers space for a Kilchoman nosing glass in addition to 4 sample bottles.
.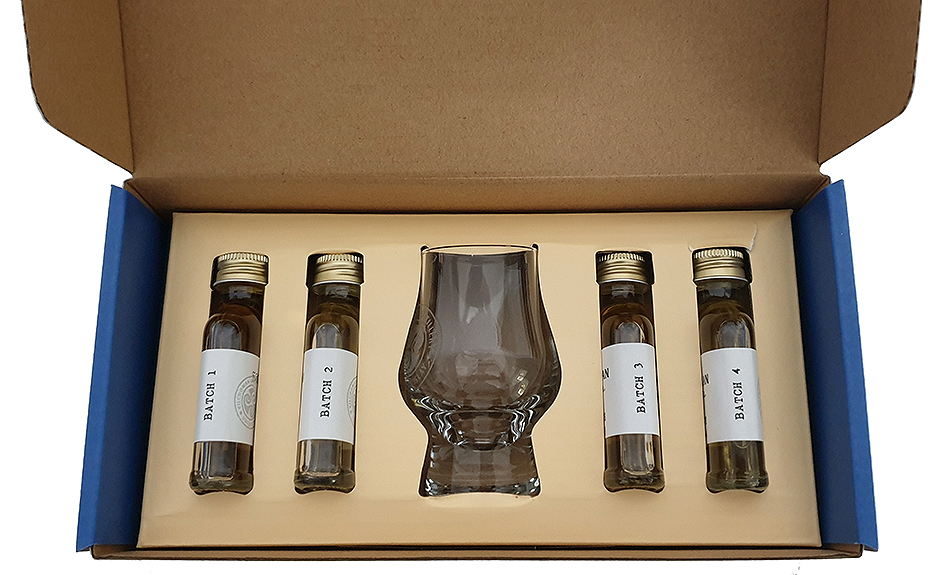 .
Overview of the 4 Comraich batches so far:
With the 1st batch of Comraich, Kilchoman presented a vatting of two 10-year-old bourbon barrels and a good 9-year-old oloroso sherry butt in autumn 2017.
Cask Numbers: 146/2007, 265/2007, 419/2007
Cask types: Ex-Bourbon Barrels (146 & 265/2007), Oloroso Sherry Butt (419/2007)
Distillation Dates: 13.6.2007, 29.8.2007, 4.12.2007
Bottling Date: 14.10.2017
Strength: 55,5 % abv
Phenol level: 50 ppm
The 2nd batch of Comraich, which arrived in Comraich bars worldwide in spring 2019, represents a vatting of three 1st fill ex-bourbon barrels aged just under 8 years.
Cask Numbers: 206/2011, 207/2011, 208/2011
Cask type: 1st Fill Ex-Bourbon Barrels
Distillation Date: 21.4.2011
Bottling Date: 11.3.2019
Strength: 55,3 % abv
Phenol level: 50 ppm.
The 3rd batch of Kilchoman Comraich was the first 100% Islay whisky to be tasted in this series in autumn 2019. The vatting consisted of two almost 11-year-old bourbon barrels and a good 9-year-old Oloroso sherry butt.
Cask Numbers: 524/2008, 528/2008, 275/2010
Cask types: 1st Fill-Ex-Bourbon Barrels (524 & 528/2008), Oloroso Sherry Butt (275/2010)
Distillation Dates: 16.10.2008, 28.5.2010
Bottling Date: 10.10.2019
Strength: 55,7 % abv
Phenol level: 20 ppm.
The 4th batch of Comraich released in 2021 is a vatting of three bourbon barrels filled in 2011 with an age of just over 9 years.
Cask Numbers: 205/2011, 467/2011, 775/2011
Cask type: Ex-Bourbon Barrels
Distillation Dates: 21.4.2011, 4.8.2011, 9.12.2011
Bottling Date: 8.2.2021
Strength: 55,0 % abv
Phenol level: 50 ppm