Kilchoman 100% Islay 11th Edition released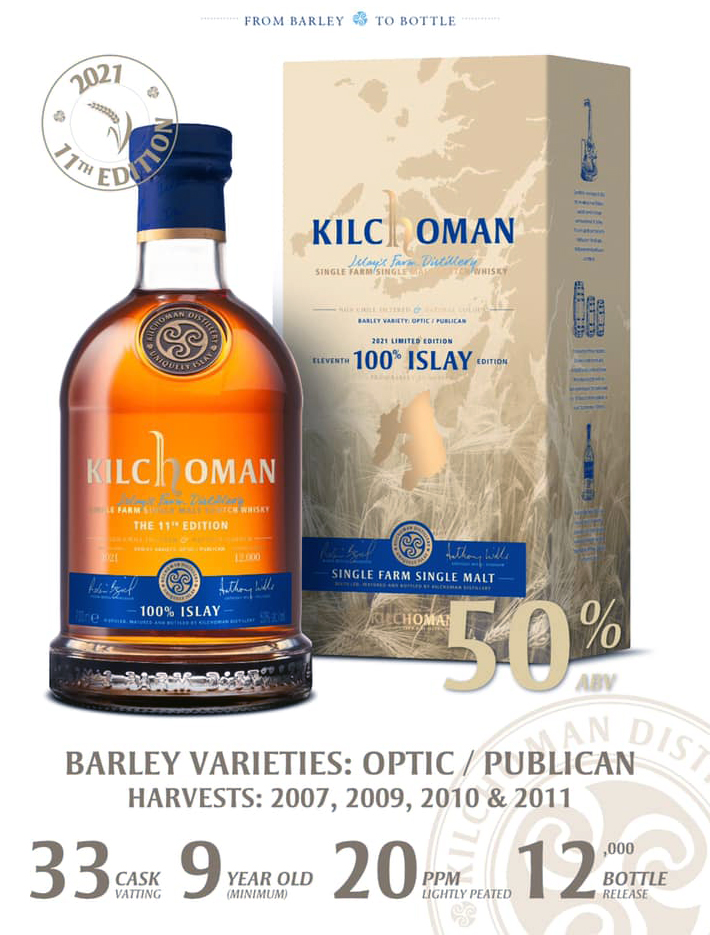 The annual limited 100% Islay Edition is always one of the highlights of the Kilchoman year and has heralded the autumn for several years. This year's edition, now the 11th in the series, is available from the distillery's online shop from today and will reach whisky shops worldwide in the coming weeks.
The 11th edition is a vatting of 26 ex-bourbon barrels and 7 oloroso sherry butts matured for over 9 years in Kilchoman warehouses. This is whisky distilled from barley of the Optic and Publican varieties harvested at Rockside Farm in 2007, 2009, 2010 and 2011. As usual with the 100% Islay range, the whisky was bottled with an alcohol content of 50.0%. The edition size is 12,000 bottles.
While the age composition of the casks used in this year's release is very similar to last year's, the sherry cask content is now a whopping 40% for the 2nd time in the history of the 100% Islay series, compared to just over 10% last year. This promises to be an exciting comparison of the two editions!
Previously, only bourbon casks were used for the 100% Islay range, but the use of sherry casks for the first time in 2018 (around 40%) certainly caused controversy among Kilchoman fans. This year's release has definitely become very drinkable due to the relatively high proportion of sherry casks – as one could already convince oneself by tasting pre-release samples at the online tastings -, the Kilchoman distillery character is nevertheless not masked but rather complemented. A more detailed review will be available here soon!
Anthony Wills, Kilchoman Founder and Managing Director wrote: Having tasted some excellent older sherry butts we quickly decided that they were at their peek, we then tried a few bourbon barrels of a similar age and the backbone of this edition came together very easily. Our bourbon barrels and oloroso butts are incredibly consistent and this combination of roughly 40% sherry butts and 60% bourbon barrels works phenomenally with the style of whisky we produce. It allows both the citrus sweetness of our spirit and the rich fruity flavours of the casks to balance perfectly,"