Kilchoman Comraich Batch No. 4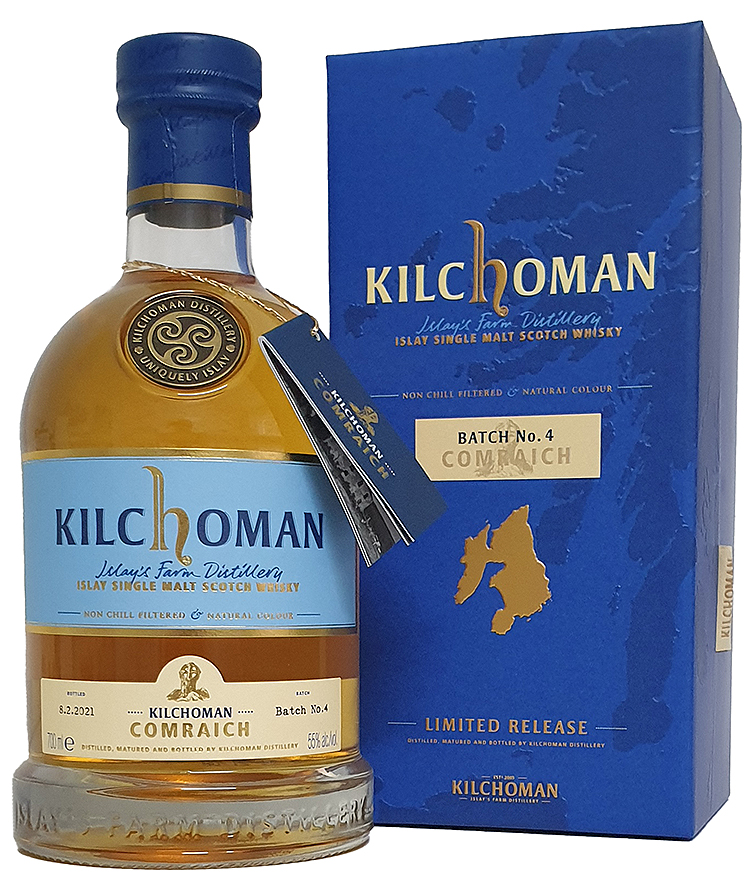 Cask Numbers: 205/2011, 467/2011, 775/2011
Cask type: Ex-Bourbon Barrels
Distillation Dates: 21.4.2011, 4.8.2011, 9.12.2011
Bottling Date: 8.2.2021
Age: 9 yo
Strength: 55,0 % abv
Phenol level: 50 ppm
Bottle volume: 0,7 l / 0,75 l / 0,02 l
Bottle code: COM 19.02.21 21/08
Distribution: only served in the Comraich Bars
.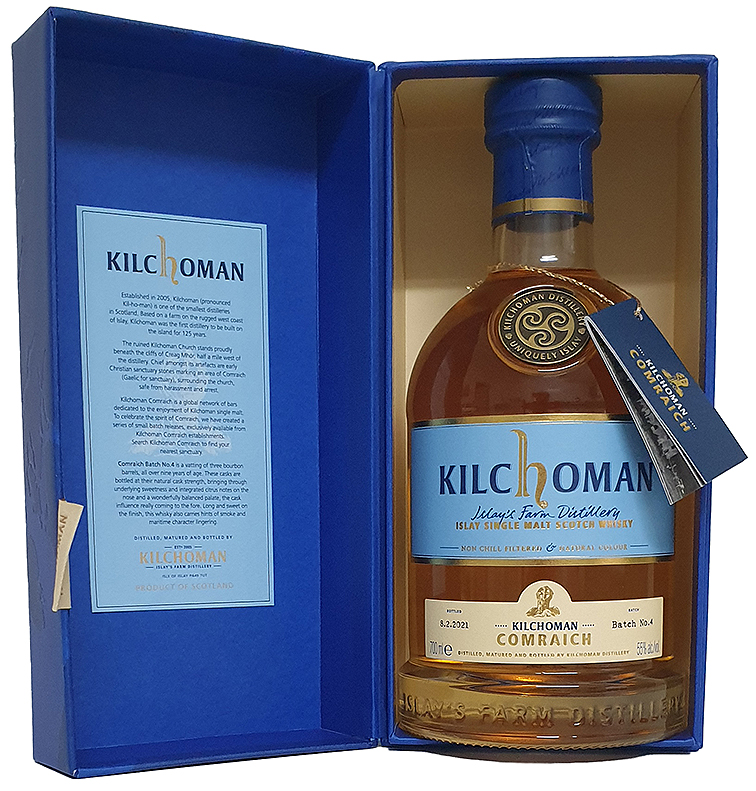 The 4th batch of Comraich released in 2021 is a vatting of three bourbon barrels filled in 2011 and aged for a good 9 years.
Samples of this release were part of two Kilchoman online tastings on 18 February and 21 October 2021 and could also be purchased temporarily at the Kilchoman Visitors Centre in late summer/autumn 2021.
.
Tasting Notes:
HPN:
Nose: Once again quite restrained, but typical bourbon cask kilchoman in the 10 year window, ashy peat smoke followed by citrus and vanilla. Then the cooked yellow fruits, caramel and malt. 87
Taste: Very sweet and fruity, seems a bit more mature than Batch No. 2, i.e. the yellow fruits (apple and pear) are already replaced by apricots and tropical fruits. Slight hints of furniture polish and of course not to forget the distinct peat smoke dryness on the palate. 91
Finish: Long, sweet, dry peat smoke, quite salty at the end. Top. 90
Of the four Comraichs, the (bourbon) cask maturation is already furthest advanced here. The result is a really tasty and well-balanced whisky, whose nose could only be a bit more concise. 90 / 100 points
.
Archer:
Nose: Reminiscent of batch 2 on the nose: apple and pear wedges, honey, vanilla, pepper. Looks younger than he is with fresh grass clippings and green branches. Caramel, malt, grain notes. 86
Taste: And it also resembles Batch 2 on the tongue: So sweet, so soft that you don't think it's 55%. Creamy and soft start, sweet rapeseed honey, vanilla pudding, milk coffee. There is also clear peat smoke with hints of smoked ham. Warm tar, nori leaves, salt. 91
Finish: Long, long, long. This peat smoke note, this subtle fruity sweetness, this absolutely balanced spiciness: a dream. 91
If only the nose could keep up with the rest … 89 / 100 points
.