Kilchoman Port Cask Matured Limited Release announced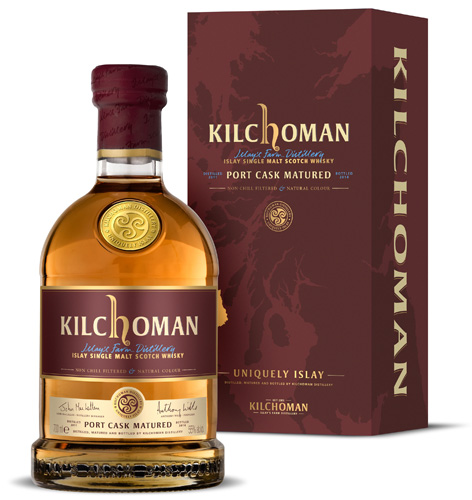 Kilchoman Distillery today announced the release of its first ever Port Cask Matured whisky. It is scheduled to be available in the Distillery Shop and worldwide markets from 5 September. The alcohol content of the announced 6,000 bottles (1000 cases of 6) is 55.0% abv, the whisky is, as always with Kilchoman, not coloured and non chill-filtered. Due to the high interest and limited number of bottles this will be limited to one bottle per person from the Kilchoman shop – £68.
The whisky was fully matured and not finished in Ruby Port casks for allowing the full influence of the Port casks to be imparted into the whisky.
In 2010, Kilchoman began experimenting with maturing whisky in a range of wine casks, Madeira, Port and Sauternes. With the Port Wine Matured Limited Release we will now be able to taste the first result of these experiments. We are looking forward to it!
Anthony Wills said about the bottling: "We experimented with a number of different cask types to see which ones worked for a full maturation term and the ruby port casks are exceptional at just 3 years old. The palate has a wonderful balance of port influence but maintains much of Kilchoman's signature characteristics".
.
Cask type: 1st Fill Ruby Port Hogsheads
Vintage: 2011
Bottled: September 2014
Age: 3 yo
Strength: 55,0 % abv
Phenol level: 50 ppm
Number of bottles: approx. 5500
Bottle volume: 0,7 l / 0,75 l
Barcodes:
5 060210 700584
8 92032 04376 2 (USA)
Distribution: worldwide
.