Kilchoman Port Cask Matured Limited Release angekündigt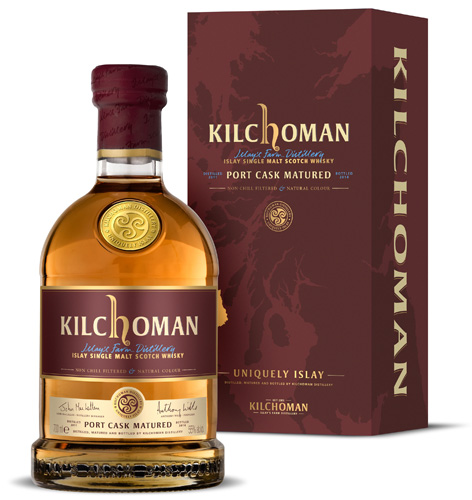 Die Kilchoman Destillerie kündigte heute das Erscheinen einer völlig neuen Abfüllung an: die erste Vollreifung in Ruby Portweinfässern. Ab dem 5. September soll sie im Distillery Shop und den weltweiten Märkten erhältlich sein. Der Alkoholgehalt der angekündigten 6.000 Flaschen (1000 6er Cases) beträgt 55,0 %, der Whisky ist, wie immer bei Kilchoman, nicht gefärbt und nicht kühlfiltriert. Mit einer Vollreifung, die Anthony Wills Finishings vorzieht, soll der volle Einfluss der Portweinfässer auf das reifende Kilchoman-Destillat gezeigt werden. Wegen der großen Nachfrage und der limitierten Flaschenanzahl ist der Verkauf der Abfüllung im Kilchoman Distillery Shop auf eine Flasche pro Person begrenzt. Der Preis beträgt dort £68.
Im Jahre 2010 hatte Kilchoman damit begonnen eine Reihe von Weinfässern (Madeira-, Portwein- und Sauternes-Fässer) zu befüllen. Mit der Port Wine Matured Limited Release werden wir nun das erste Ergebnis dieser Experimente kosten können. Wir sind gespannt!
Anthony Wills sagte zu der Abfüllung: "We experimented with a number of different cask types to see which ones worked for a full maturation term and the ruby port casks are exceptional at just 3 years old. The palate has a wonderful balance of port influence but maintains much of Kilchoman's signature characteristics". 
.
Fassart: 1st Fill Ruby Port Hogsheads
Fässer befüllt: 2011
Flaschenabfüllung: 09/2014
Alter: 3 Jahre
Alkoholstärke: 55,0 %
Phenolgehalt: 50 ppm
Flaschenanzahl: ca. 5500
Flaschengröße: 0,7 l / 0,75 l
Barcodes:
5 060210 700584
8 92032 04376 2 (USA)
Vertrieb: weltweit
.