Kilchoman PX Sherry Cask Matured 2023 Edition
Kilchoman today announced the release of another 2023 Limited Edition for next week. This is the second PX Sherry Cask Matured Limited Edition in Kilchoman's history. A first PX Sherry Cask Matured Edition was already released in 2021, but despite its name, it was a combination of PX full maturation and PX finish casks.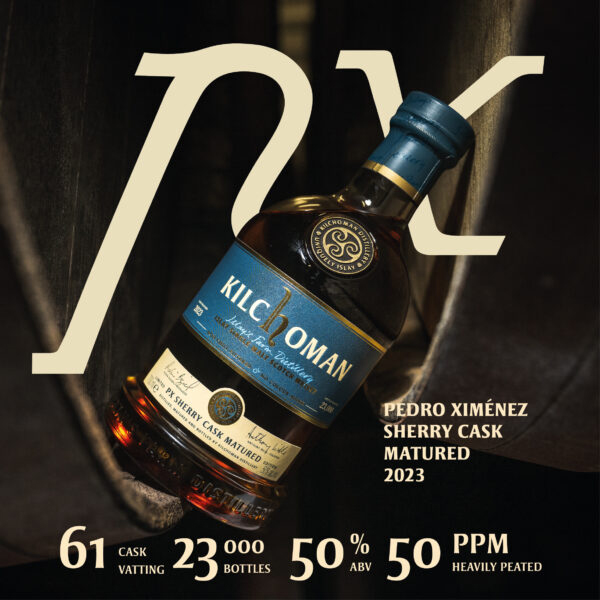 For this year's release, Anthony Wills and Robin Bignal opted for a pure PX full maturation, selecting a total of 61 PX sherry casks with an age of at least 5 years. The yield was 23,000 bottles, bottled with an alcohol content of 50.0 %.
Casks that previously contained the extremely sweet Pedro Ximénez sherry are mostly used for finishing, as there is a risk that they will dominate the character of the whisky after a relatively short period of maturation. This was also the reason why Anthony and Robin opted for a combination of PX full maturation and PX finish in 2021, as the declared aim of all Kilchoman bottlings is to retain the typical Kilchoman character regardless of the cask type. In order to achieve this with a full PX maturation, fairly young casks were selected for this year's release. But even at the age of 5 years, these casks show an overwhelming sweetness typical of PX, as Anthony Wills emphasised, which harmonises very well with the typical Kilchoman smoke and the citrus fruitiness of the distillate.
"The 2023 PX Sherry Cask Matured release is our first limited edition to be fully matured in PX casks. Some might consider five years to be a short maturation, but these PX hogsheads give such a rich and sweet character, shorter maturation is the only option to maintain a good balance of flavour. Here, the citrus sweetness and peat smoke of our spirit balance beautifully with the PX character to create a multi-dimensional whisky, rich and sweet with hints of light citrus sweetness and waves of maritime peat smoke." Anthony Wills, Kilchoman Founder & MD
.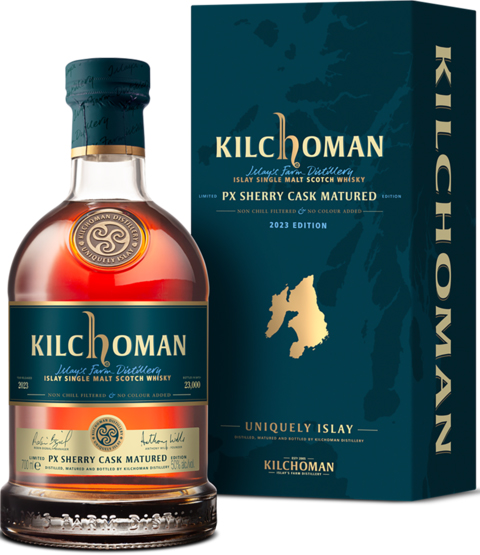 Cask type: Pedro Ximénez Sherry Hogsheads
Date Filled: 2018
Date Bottled: 08/2023
Age: 5 yo
Strength: 50,0 % abv
Phenol level: 50 ppm
Number of bottles: 23.000
Bottle volume: 0,7 l / 0,75 l
Barcode: 5 060210 707019
Bottle Code: PX 29.08.21 23/127
Distribution: worldwide
.
.