Kilchoman Sherry Finish Red Wine Cask 314/2009 for Japan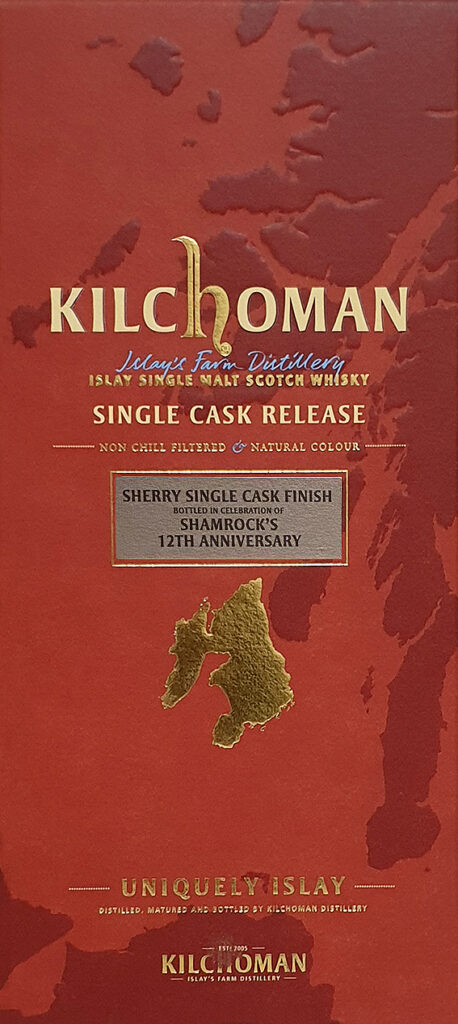 A very unusual Kilchoman Single Cask bottling was recently released in Japan. On the occasion of its 12th anniversary, the bar Shamrock in Takamatsu in the Kagawa prefecture released a sherry finish red wine cask maturation. This means that the whisky was first matured for 10 years in a red wine cask and then finished for 2 years in an Oloroso Sherry hogshead.
Even a 10-year red wine cask maturation would have aroused the interest of all Kilchoman fans, the finishing of red wine cask matured whisky in Oloroso Sherry casks is extremely unusual and suggested a special reason.
And indeed, when asked, Peter Wills told me that Kilchoman was not at all satisfied with the development of the whisky in this red wine cask after 10 years. So the decision was taken to finish it in sherry to see how it would react.
We are very curious about the taste of this whisky. However, it is almost impossible to get hold of such a bottle outside Japan. Maybe one of our Japanese readers can share his impressions with us.
.
Sherry Single Cask Finish for Shamrock´s 12th anniversary
Cask No.: 314/2009
Cask types: Red Wine Cask, Oloroso Sherry Finish
Distillation Date: 25.6.2009
Bottling Date: 12.8.2021
Age: 12 yo
Strength: 54,3% abv
Phenol level: 50 ppm
Number of bottles: 278
Bottle volume: 0,7 l
Market: Japan