Kilchoman Port Cask Matured Limited Release 2014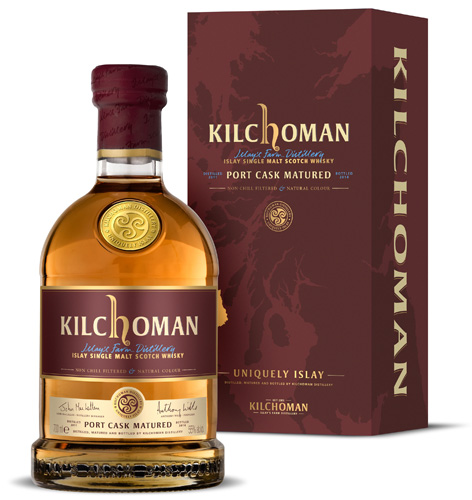 Cask type: 1st Fill Ruby Port Hogsheads
Vintage: 2011
Bottled: September 2014
Age: 3 yo
Strength: 55,0 % abv
Phenol level: 50 ppm
Number of bottles: approx. 5500
Bottle volume: 0,7 l / 0,75 l
Barcodes:
5 060210 700584
8 92032 04376 2 (USA)
Distribution: worldwide
.
In 2010, Kilchoman began experimenting with maturing whisky in a range of wine casks, Madeira, Port and Sauternes. Initially, they relied exclusively on full maturations, which Anthony Wills preferred to finishes. After a good three years of maturation, Anthony Wills and John MacLellan found that the Ruby Port Hogsheads had developed best.
Thus, the Port Cask Matured bottling, released in early September 2014, became became the first in a series of annual limited wine cask releases.
Incidentally, their successors (Madeira, Sauternes Cask Release) were each prepared the previous year with a single cask bottling for the Kilchoman Club.
Anthony Wills said about the port bottling: "We experimented with a number of different cask types to see which ones worked for a full maturation term and the ruby port casks are exceptional at just 3 years old. The palate has a wonderful balance of port influence but maintains much of Kilchoman's signature characteristics".
The reason for the significantly lower than announced number of bottles was only revealed years later, with the appearance of the Am Burach Release. During the vatting of the Port Wine Cask Release, there had been an operating error in the two vatting tanks, which had only been installed at the beginning of 2014, which led to the contents of the two tanks mixing. The other tank had just contained a batch of Machir Bay. The result of this "mess" (Gaelic "Am Burach") was first decanted back into bourbon barrels and, after further maturation in port quarter casks, bottled as Am Burach in 2020.
.
Tasting Notes
Colour: red-brown
Nose: medium peaty smoke notes which are quickly overlaid by fruity sweetness (red fruits, berries), wine tones
Taste: lots of red fruit, vinous sweetness, oily mouthfeel, but then also a rather distinctly typical Kilchoman peat smoke dryness
Finish: long, first sweet, then long lasting dryness, slightly astringent
Conclusion: absolutely delicious, one of the best Kilchoman releases on the market (HPN 2014)