Kilchoman PX Sherry Cask Finish Single Cask 698/2010 for Spec´s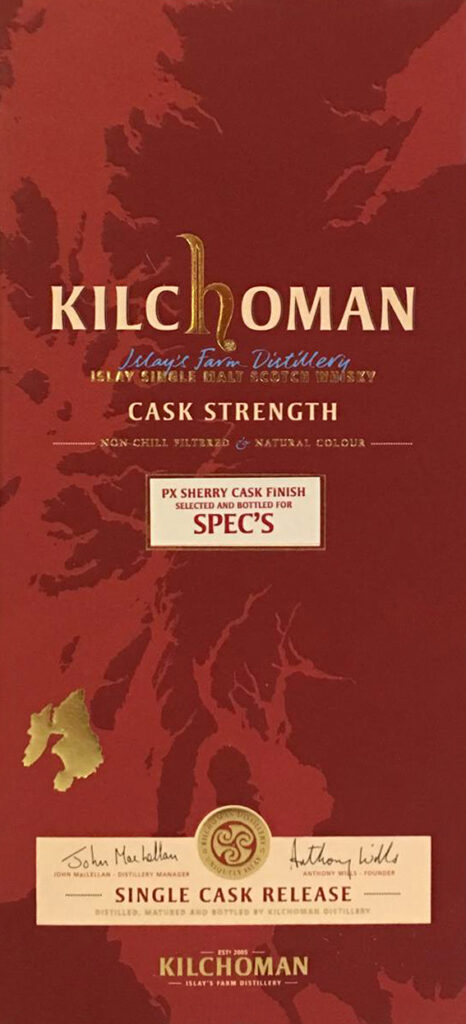 Cask No.: 698/2010
Cask type: Ex-Bourbon Barrel, PX Sherry Cask Finish
Distillation Date: 4.11.2010
Bottling Date: 25.8.2015 (according to label), 18.8.2015 (according to bottle code)
Age: 4 yo
Strength: 58,6 %
Phenol level: 50 ppm
Bottle size: 0,75 l
Bottle code: 698/10 18/8/15
Barcode: 8 92032 044080
Market: USA
.
The Texas liquor chain "Spec's. Wine, Spirits & Finer Foods" was founded in 1962 and is now active at 180 locations exclusively in Texas. At the end of 2015, two Kilchoman single cask releases appeared here, the bottling mentioned here and that of a 5-year-old ex-bourbon barrel (324/2010).
Both casks were bottled on 18.8.2015, even if the label of the release listed here says otherwise.
The Whisky was first matured in a bourbon barrel for over 4 years before being finished in a PX Sherry Hogshead.