Kilchoman "unpeated" Sherry Hogshead 553/2012 for Berry Bros. & Rudd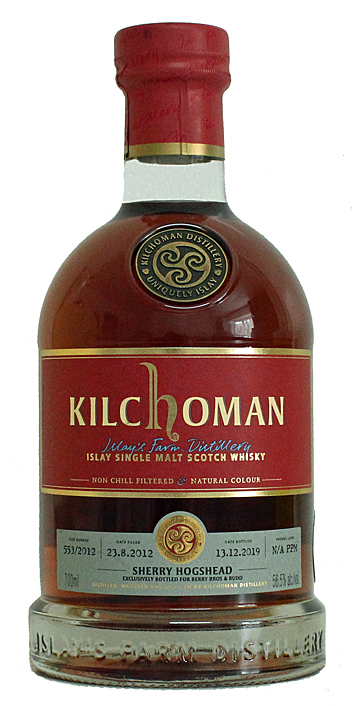 Cask No.: 553/2012
Cask type: Oloroso Sherry Hogshead
Date Filled: 28.8.2012
Date Bottled: 13.12.2019
Age: 7 yo
Strength: 56,5 % abv
Phenol level: n/a ppm
Number of bottles: 326
Bottle volume: 0,7 l
Market: UK
.
Due to a breakdown of the kiln Kilchoman produced an "unpeated" whisky from the farm's own barley for a short time in late Summer 2012 (we reported).
Since the "low wines and feints receiver" from which the spirit still is filled was not laboriously emptied in between the alternating distillation runs with peaty Port Ellen malt, however, the result was a whisky with a slight peaty smoke note, which is why Kilchoman uses the term "unpeated" in quotation marks. 75 casks were filled with this rarity.
The first two casks were bottled in December 2019 and released in February 2020. These are two Sherry Hogsheads, in which the whisky was matured for more than 7 years. Besides the cask 553/2012 for the well-known British wine and spirits dealer Berry Bros. & Rudd, which is listed here, the contents of cask no. 554/2012 could be tasted at the floating whisky fair "Viking Cinderella Whisky Fair" (13.-15.2.2020) and could be bought for 999 Swedish Kroner.
.
Tasting notes
Archer:
Nose:
Spicy smoked bacon, cereals, fresh yeast dough and smoke. Nice spice notes, leather, tobacco, dark chocolate. Raisins, grapes, blackberries. The nose is very pleasant and balanced in terms of the ratio of spice / smoke and fruit.
Taste:
Creamy, almost soft and velvety appearance. Sure, there is strength behind it, 56.5% leave an impression. But you have the feeling that he is not using his strength to the full, but rather is exercising careful restraint. In any case, if it suits him well, spicy smoke, tar, seaweed, liquorice and toffee can develop freely. Less fruity than on the nose, but this is in no way a disadvantage. Subtle raisins and beet syrup, malt.
Finish:
Gets dry, ashy and slightly lemon-like at the back. A salty sea breeze, dried seaweed, pepper, curry and a chutney with raisins.
Not really 'unpeated', which is not surprising, since the low wines and feints receiver, which still contained "material" from previous burnings (with peated malt), was not emptied before the still for the unpeated was thrown on. Delicious thing with not too bulky sherry notes. (Archer)
88/100