Timeline 2005
After the renovation and conversion work of the previous year, the next steps in 2005 will be the new buildings (Maltingfloor, Kiln, Warehouse No. 1) as well as the installation of the equipment in order to open the distillery as planned in the middle of the year.
.
February 7: the two stills, the mash tun and other equipment arrive at the distillery. They were manufactured by the well-known company Forsyths of Rothes, the Scottish market leader for distillery equipment.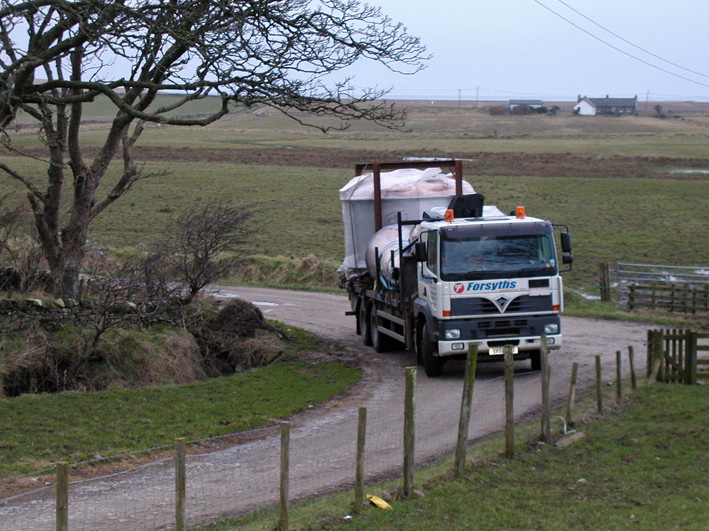 .
.
.
.
.
.
.
.
.
April: Malcolm Rennie is appointed the first distillery manager. Rennie had been working at Ardbeg as a stillman since the reopening of the distillery in 1997. Before that, he had worked for Bruichladdich for 8 years. He was also seconded to Glen Moray Distillery for 6 months in 2003 to act as Assistant Manager.
April 18: Paula Lawson starts her job as Visitor Centre Manager. She previously worked for 7 years at Ardbeg as a tour guide and in the distillery shop and café.
A successful collaboration has begun with designer Craig Mackinlay of Breeze Creative. In the future, he will work with the distillery on its branding, packaging design, signage for the visitor centre and similar tasks.
.
.
June 3: the distillery (still under construction) is officially opened during the Islay Festival "Fèis Ìle 2005". The Kiln and the Warehouse No. 1 are still under construction, but the Stillhouse with all installations and the Malting Floor – where the official opening took place – are finished. The Visitor Centre with a small café is also already open. Visitors are free to look around the distillery and the very first Kilchoman tours take place. It was announced that the first Spirit would be distilled on this day, but this schedule could not be kept.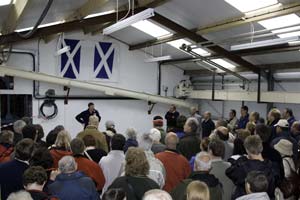 July: Private Cask Offer. Even though production has not yet started, the distillery already offers private individuals the opportunity to purchase their own Kilchoman cask. Both 1st Fill and Refill Bourbon Barrels freshly filled with New Make are on offer at a price of £1095. The price includes insurance and storage fees for 10 years. The casks must remain in the Kilchoman warehouse and when matured they will be bottled using Kilchoman´s packaging. A a slip label with the owner's name can be added to the bottle. At bottling, the owner can decide the alcohol strength, whether cask strength or diluted, Kilchoman recommends bottling at 46%.
.
September: Thomasina Glover is hired as the book keeper.
November 9: the first more or less usable New Spirit flows from the stills.
.
December 14: the first cask, a refill bourbon barrel is filled. This is followed on this day by only 6 more barrels, the next distillation does not take place until March 2006. That means the yield of the 1st year is 7 casks of whisky…