3rd auction of Kilchoman Casks finished
Today ended the 3rd part of the auction of casks of Kilchoman New Make, which had started on December 3 (we reported).
On the occasion of the 15th anniversary of the Kilchoman distillery – which was officially opened at Fèis Ìle 2005 – a total of 15 casks of Kilchoman New Make were auctioned in 3 tranches of 5 casks each. The auction of the first five casks took place in May/June, the second round ran in September/October and the 3rd and last round from December 3rd until December 14th.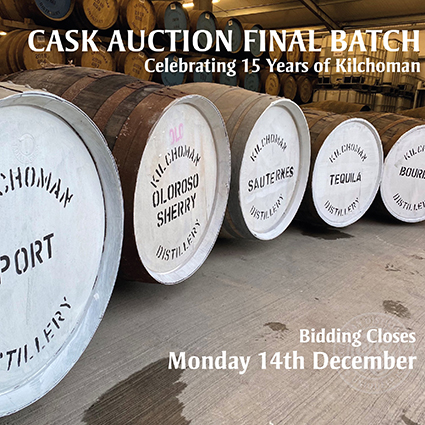 The last 5 casks achieved the following highest bids:
Bourbon Barrel: £13.700
Oloroso Sherry Hogshead: £11.500
Ruby Port Hogshead: £10.600
Tequila Barrel: £7.600
Sauternes Hogshead: £10.100
After the Private Cask Programme of the years 2005-2007, which primarily served to create urgently needed cash flow for the ongoing operation of the newly founded distillery, private individuals were now offered the opportunity to purchase their own Kilchoman cask for the first time again in the anniversary year.