Kilchoman Founders Cask No. 3 released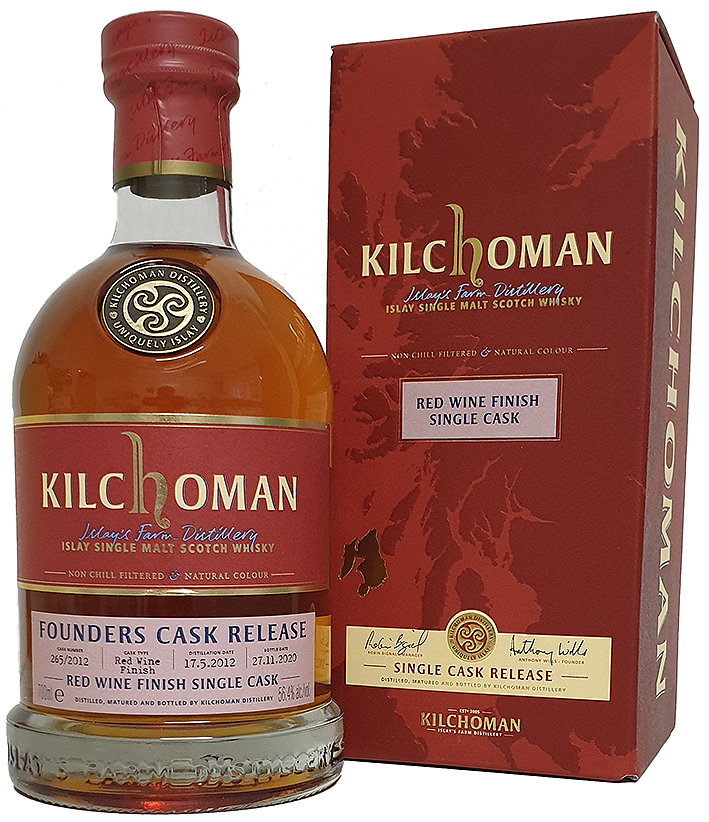 The 3rd edition of the Founders Cask series is now available in British whisky shops. Distributed exclusively in the UK, the series is based on the idea that each of the five members of the Kilchoman owner family selects a special cask of Kilchoman whisky.
This edition should not be confused with "The Wills Family Cask Collection", which the well-known French spirits retailer and Kilchoman importer "La Maison du Whisky" launched exclusively for the French market at the end of September 2020, and which is based on the same concept.
The first edition of the Founders Cask series was released in early 2018 with a single sherry cask selected by Kathy Wills, wife of Anthony Wills and mother of George, James and Peter Wills, followed in late 2019 by No. 2, a 12-year-old bourbon barrel from eldest son George Wills, and now edition number 3, a Red Wine Finish Single Cask selected by Peter Wills.
The whisky first spent more than 7 years in an ex-bourbon barrel and has been finished in a red wine cask for over 12 months. The result is an extremely fruity whisky in which the typical Kilchoman notes of cooked yellow fruits and citrus are wonderfully complemented by sweet wine tones.
.
Cask No.: 265/2012
Cask type: Ex-Bourbon Barrel, Red wine cask finish
Distillation Date: 17.5.2012
Bottling Date: 27.11.2020
Age: 8 yo
Strength: 56,4 % abv
Phenol level: 50 ppm
Number of bottles: 241
Bottle volume: 0,7 l
Market: UK