Mezcal Finish Single Cask 671/2013 for Royal Mile Whiskies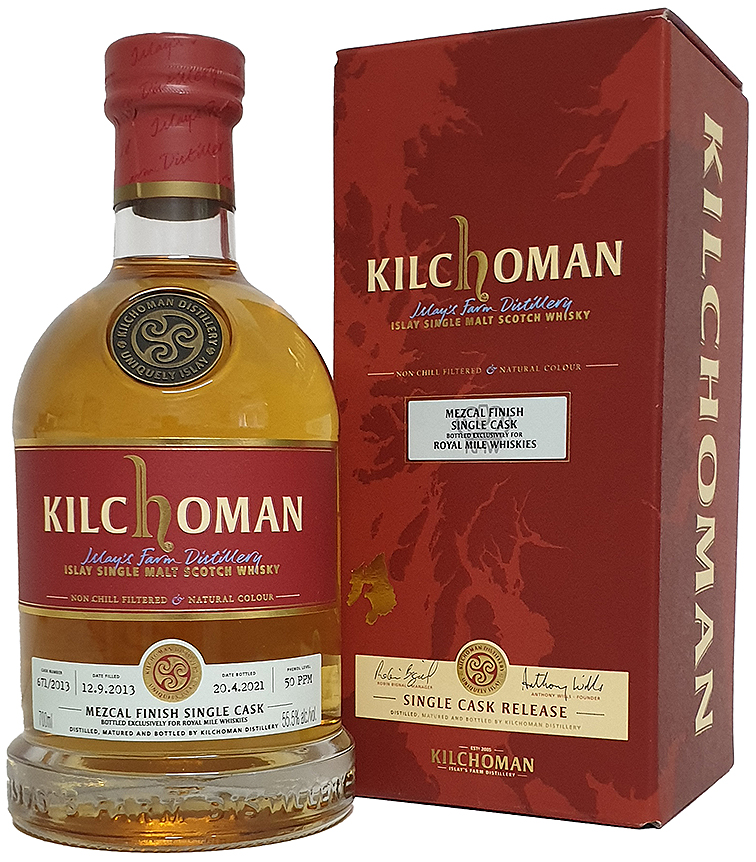 After Kilchoman released its first Tequila Finish Single Cask as an Online Shop Exclusive on 21 April, the first Mezcal Finish Single Cask now follows for the well-known Edinburgh whisky shop Royal Mile Whiskies.
As we have reported on several occasions, a change in the relevant SWA regulations in 2019 means that it is now allowed to use casks for whisky maturation that previously contained, for example, Calvados, Tequila or Mezcal.
After a couple of Calvados releases last year and the aforementioned first Tequila finish from Kilchoman, the Kilchoman fan can now try the last of the trio with a Mezcal finish single cask.
Distilled on 12.9.2013, the whisky was first matured in a bourbon barrel for almost 7 years and then finished in a mezcal cask from Oaxaca for 9 months. On 21.4.2021, 243 bottles with an alcohol content of 55.5% were bottled.
Before we can taste this exciting new release ourselves, here are the official tasting notes by Anthony Wills:
Nose : Bright and fresh with citrus, sweet smoke and warm agave notes.
Palate : Citrus sweeties, chestnut honey and palate-up front smokiness.
Finish : Smoky liquorice and a long lingering finish.
.
Cask-No.: 671/2013
Cask type: 1st Fill Ex-Bourbon Barrel, Mezcal Cask Finish
Distillation Date: 12.9.2013
Bottling Date: 20.4.2021
Age: 7 yo
Strength: 55,5% abv
Phenol level: 50 ppm
Number of bottles: 243
Bottle size: 0,7 l
Market: UK