Mezcal Finish Single Cask 671/2013 for Royal Mile Whiskies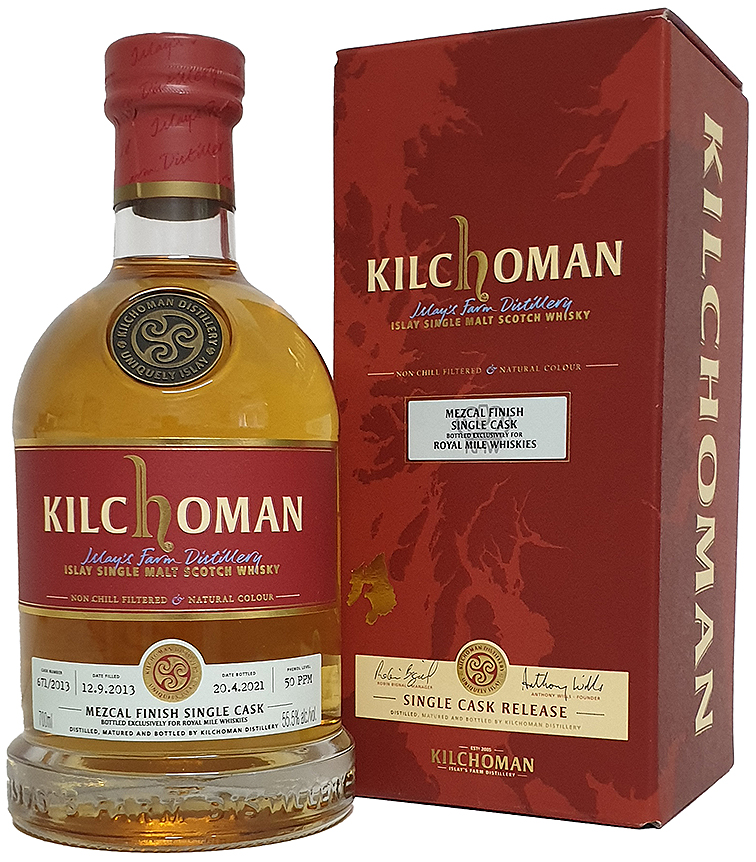 Nachdem Kilchoman am 21. April erstmals ein Tequila Finish Single Cask als Online Shop Exclusive veröffentlicht hatte, folgt nun das weltweit erste Mezcal Finish Single Cask für den bekannten Edinburgher Whiskyshop Royal Mile Whiskies.
Wie wir schon mehrfach berichteten, ist es durch eine Änderung der entsprechenden SWA-Vorschriften im Jahr 2019 nun erlaubt auch Fässer zur Whiskyreifung zu benutzen, die vorher beispielsweise Calvados, Tequila oder Mezcal enthielten. Nach einigen Calvados-Releases im letzten Jahr und dem erwähnten ersten Tequila Finish von Kilchoman erschien nun also als Letztes aus diesem Trio ein Mezcal Finish Single Cask.
Destilliert am 12.9.2013 lagerte der Whisky zunächst knapp 7 Jahre lang in einem Bourbon Barrel und wurde danach für 9 Monate in einem Mezcal-Fass aus Oaxaca gefinisht. Am 21.4.2021 wurden 243 Flaschen mit einem Alkoholgehalt von 55,5% abgefüllt.
Bevor wir diese spannende neue Release selbst verkosten können, hier schon einmal die offiziellen Geschmacksnotizen von Anthony Wills:
Nose: Bright and fresh with citrus, sweet smoke and warm agave notes.
Palate: Citrus sweeties, chestnut honey and palate-up front smokiness.
Finish: Smoky liquorice and a long lingering finish.
.
Fass-Nr.: 671/2013
Fassart: 1st Fill Ex-Bourbon Barrel, Mezcal Cask Finish
Fass befüllt: 12.9.2013
Flaschenabfüllung: 20.4.2021
Alter: 7 Jahre
Alkoholstärke: 55,5%
Phenolgehalt: 50 ppm
Flaschenanzahl: 243 Flaschen
Flaschengröße: 0,7 l
Vertrieb: Großbritannien