Taste Guide: Mezcal Cask
In 2019, the Scotch Whisky Association (SWA), the trade body of the Scotch whisky industry, changed the regulations on cask maturation of Scotch whisky. In the course of the trend towards maturing or finishing whisky in increasingly exotic casks in order to offer consumers new taste experiences, demands for a relaxation of the previous rules, which many distilleries considered restrictive, had become louder and louder; individual distilleries had already "creatively interpreted" the existing rules and launched individual Calvados or cider cask finishings on the market. (At Kilchoman, too, the first Calvados casks had already been filled before 2019).
Under the old rules, Scotch whisky could only be matured in oak casks that had been "traditionally used in the industry", i.e. bourbon, sherry, rum, wine and beer casks, to name but the most important. The new rules now also allow the use of casks in which other spirits were previously matured, as long as cask maturation is part of the traditional production process of these spirits. These are, for example, the two agave spirits tequila and mezcal, calvados as well as other fruit brandies as long as they are not made from stone fruits. However, the use of cider and gin casks is still not permitted.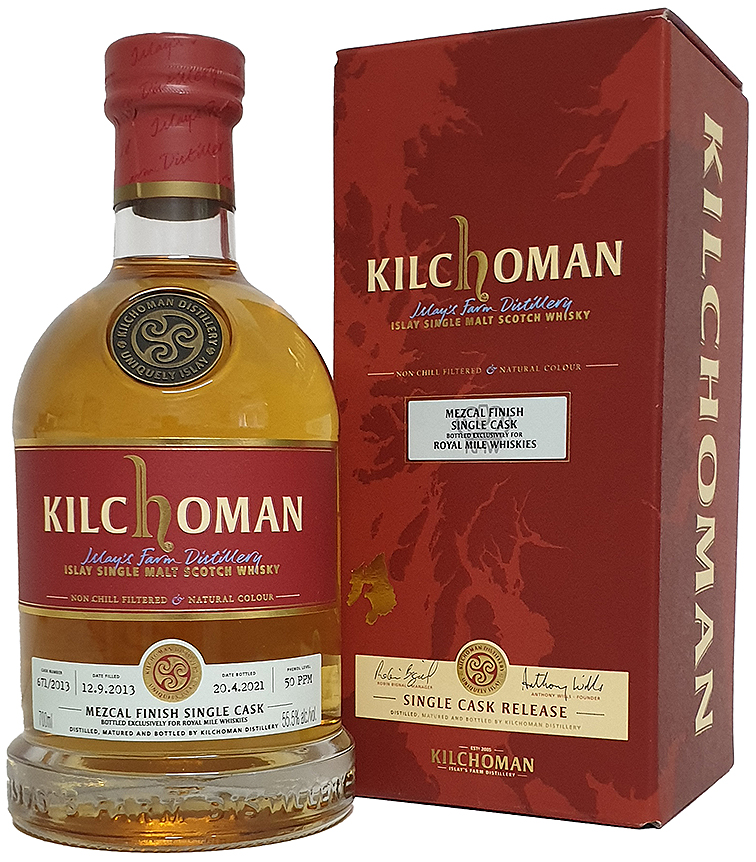 In 2020, Kilchoman filled 25 tequila and 25 mezcal casks for the first time on a trial basis, some intended for full maturation, some for finishing. As Anthony Wills reported several times, they were very positively surprised by the development of the whisky in these casks and therefore filled a few more around Christmas time 2020.
The first Mezcal Finish Single Cask Release was released at the beginning of May 2021 by the renowned Edinburgh whisky merchant Royal Mile Whiskies. The first release for the USA (ImpEx Cask Evolution 01/2021) was already bottled in February 2021, but only came onto the US market in July. These two bottlings have since been followed by a good dozen others worldwide. All have an age of 7 or 8 years, with mezcal finishing periods of between 6 and 14 months. Similar to tequila, we will probably have to wait a few more years for the first full maturation of mezcal.
.
What does Kilchoman whisky from a mezcal cask taste like?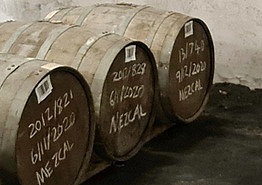 First of all, it is striking that mezcal cask maturation or finishing gives the whisky a high degree of recognition. For people who are not so familiar with the taste of mezcal, we recommend to taste a mezcal at the same time as the whisky and being surprised at how clearly you recognise the mezcal in the smell and taste of the whisky.
First of all, there is the noticeable earthy mezcal wood smoke note, which competes for dominance with the ashy maritime peat smoke note of a Kilchoman whisky. At first, this can be perceived as somewhat disturbing, but in the best case, as for example with the Uniquely Islay Release, both combine to create a completely new smoke tone for Kilchoman, which then goes more in the barbecue direction.
In the taste, the typical notes of a Kilchoman matured for about 8 years in bourbon barrels – cooked yellow fruits, citrus, vanilla, barley malt – remain dominant, but are complemented by an additional "green" fruitiness.
In any case, a very interesting addition to Kilchoman's portfolio, which is sure to elicit contrasting opinions – depending on whether you like the mezcal flavour or not. In addition, the previous bottlings are quite different from each other compared to the tequila finishings, for example. So far, it has always been exciting to taste a new mezcal cask finish from Kilchoman. We are already looking forward to longer mezcal finishing periods and the first full maturation!
.
Mezcal Cask Finish bottlings from Kilchoman