Kilchoman 100% Islay – 4th Edition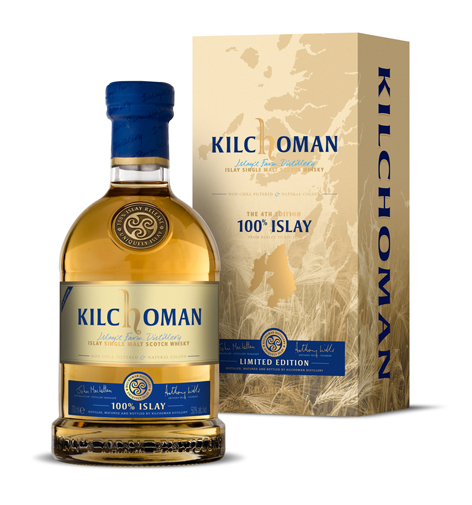 Cask type: 40 1st Fill Bourbon Barrels, 32 five years old, 8 four years old
Vintage: ?
Bottled: 2014
Strength: 50,0 % abv
Phenol level: approx. 20 ppm
Number of bottles: 12.000
Bottle volume: 0,7 l / 0,75 l
Distribution: worldwide
.
Note: On the back of the box, the words "Over 5 years in a combination of fresh and refill bourbon barrels" are incorrectly indicated. The layout artist obviously kept the (already there wrong) sentence of the previous year and only changed the age indication from 4 to 5 years.
.
Tasting notes:
Colour: light gold
Nose: relatively discreet peat smoke nose, then fresh fruitiness, yellow cooked fruit (pear compote), strawberry, vanilla, some citrus, then also honey and nut, alcoholic spiciness, also some wood/spice (furniture polish), hardly metallic
Taste: at first a little "empty", but quite oily, then fruity-sweet (many yellow fruits), a little bitter and tingly hot, marshmallows
Finish: medium length, slightly smoky-dry, slightly bitter and pungent, hardly metallic
Conclusion: when water is added, the yellow fruits become even more apparent; very similar to the 3rd edition: slightly less peat smoke in taste. (HPN 24.6.14)