Loch Gorm 2022 announced
Loch Gorm is the annual bottling matured exclusively in sherry casks that has opened the Kilchoman year for many years. However, due to the postponement of the Madeira Cask Matured Release from autumn 2021 to spring 2022, it is not the first limited Kilchoman bottling this year. It will also be released a month later than usual due to ongoing problems with the delivery of "dry goods" (bottles, labels and cartons). According to Kilchoman, it will reach the importers worldwide within the next few weeks. As with the Madeira Cask Matured Release, there will be no advance sales via the Kilchoman online shop this time – another consequence of the Brexit.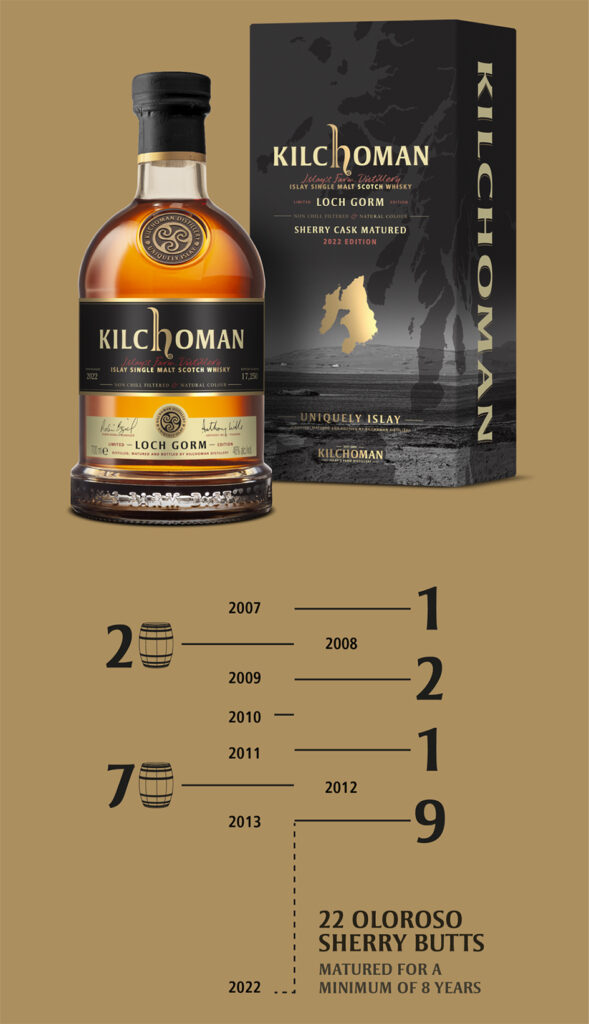 The 2022 edition is a vatting of 22 oloroso sherry butts, 20 first-filled and two refill casks that were filled between 2007 and 2013, i.e. matured for at least 8 years. The 500 litre sherry butts come, as always with Kilchoman, from the Bodega José y Miguel Martín and were filled with spirit that has a phenol content of 50 ppm. The vatting of these 22 casks, diluted down to 46%, resulted in a yield of 17,250 bottles.
As is well known, the annual Loch Gorm editions differ somewhat from year to year in the composition of the casks used. With two exceptions in the early days of the series, when hogsheads were also used, they are always Oloroso sherry butts, but of different ages and with different numbers of first fill and refill casks. According to Anthony Wills and Robin Bignal, their aim in selecting and vatting the casks was to create a whisky that, despite the strong sherry tones, has a recognisable Kilchoman character.
"Having selected casks that range in age from eight to fourteen years old, this year's vatting combines both the youngest and oldest casks we've selected for recent editions of Loch Gorm. The freshness of the eight year old casks combined with the layered complexity of the older casks gives it a fantastic balance of rich, fruity oloroso influence which pairs beautifully with the citrus sweetness and peat smoke of Kilchoman," Anthony Wills, Kilchoman Founder.