Loch Gorm 2022 angekündigt
Loch Gorm ist die jährlich erscheinende ausschließlich in Sherryfässern gereifte Abfüllung, die seit vielen Jahren das Kilchoman-Jahr sozusagen eröffnet. Wegen der Verschiebung der Madeira Cask Matured Release vom Herbst 2021 ins Frühjahr 2022 ist sie in diesem Jahr aber nicht die erste limitierte Kilchoman-Abfüllung. Außerdem erscheint sie wegen anhaltender Probleme mit der Anlieferung von Flaschen, Etiketten und Kartons in diesem Jahr auch einen Monat später als üblich. Sie soll laut Kilchoman in den nächsten Wochen die Importeure weltweit erreichen, ein Vorverkauf über den Kilchoman Online Shop findet wie auch schon bei der Madeira Cask Matured Release dieses Mal nicht statt – auch das eine Folge des Brexit.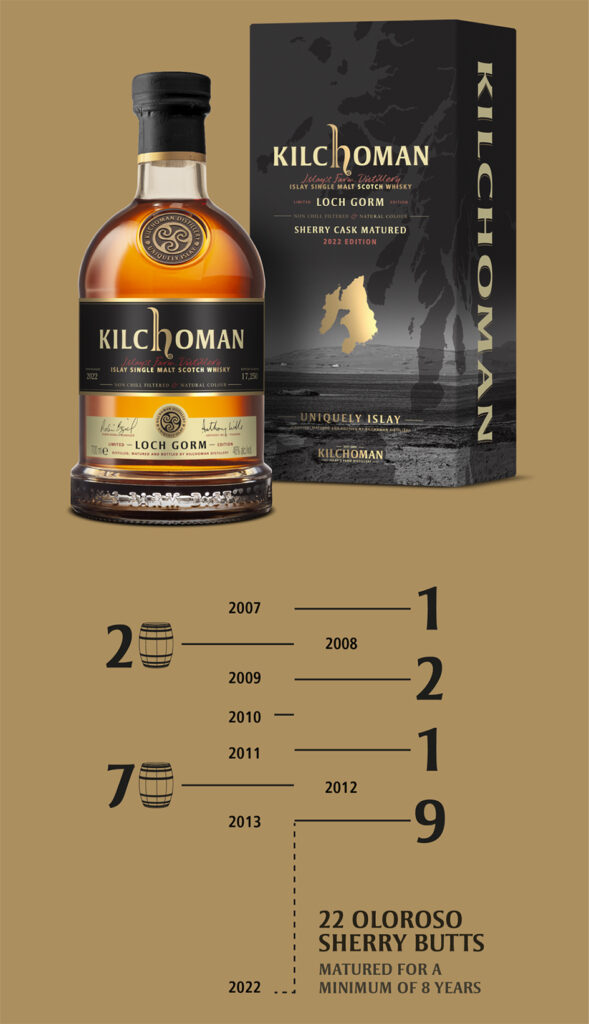 Die 2022er Ausgabe ist ein Vatting aus 22 Oloroso Sherry Butts, 20 erstbefüllten und zwei Refill-Fässern, die in den Jahren 2007 bis 2013 befüllt worden waren, d.h. mindestens 8 Jahre reiften. Die 500 Liter Sherry Butts stammen wie immer bei Kilchoman aus der Bodega José y Miguel Martín und wurden mit Spirit befüllt, der einen Phenolgehalt von 50 ppm aufweist. Das auf 46% herunter verdünnte Vatting dieser 22 Fässer ergab eine Ausbeute von 17.250 Flaschen.
Die jährlichen Loch Gorm-Editionen unterscheiden sich bekanntlich von Jahr zu Jahr etwas in der Zusammensetzung der verwendeten Fässer. Mit zwei Ausnahmen in der Anfangszeit der Reihe wo auch Hogsheads zum Einsatz kamen, sind es immer Oloroso Sherry Butts, aber unterschiedlichen Alters und unterschiedlicher Anzahl von First Fill und Refill-Fässern. Anthony Wills und Robin Bignal verfolgten nach eigenen Aussagen mit der Zusammenstellung der Fässer das Ziel einen Whisky zu kreieren, der trotz der starken Sherrytöne erkennbar einen Kilchoman-Charakter aufweist.
"Having selected casks that range in age from eight to fourteen years old, this year's vatting combines both the youngest and oldest casks we've selected for recent editions of Loch Gorm. The freshness of the eight year old casks combined with the layered complexity of the older casks gives it a fantastic balance of rich, fruity oloroso influence which pairs beautifully with the citrus sweetness and peat smoke of Kilchoman," Anthony Wills, Kilchoman Founder.