Worldwide Sales Launch of the Madeira Cask Matured Edition
Kilchoman Distillery today announced that the Madeira Cask Matured Release is now available worldwide.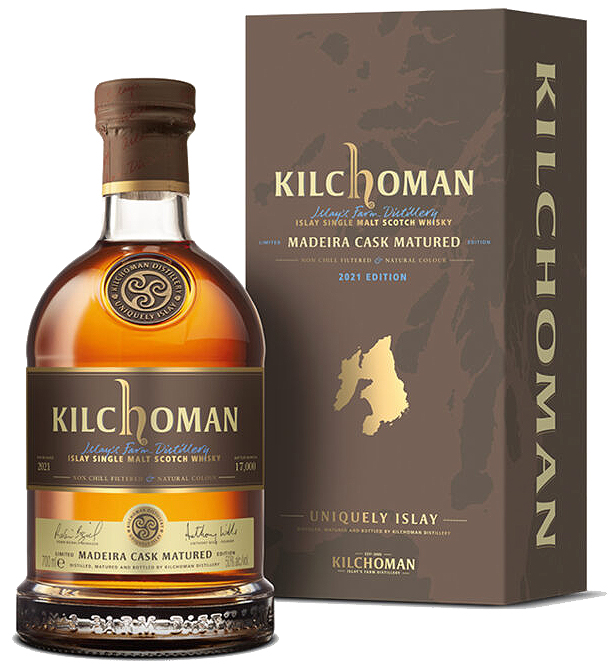 Originally planned as the 4th Limited Release of 2021, the global sales launch had to be postponed in autumn 2021 due to a shortage of empty Kilchoman bottles (we reported).
For the release, 46 fresh Madeira Hogsheads were selected, in which the whisky distilled in May 2016 was stored for 5 years and 3 months. The edition is 17,000 bottles, bottled with an alcohol strength of 50% abv.
Due to Brexit and other restrictions with global shipment, Kilchoman decided this time not to offer the bottling in the online shop of the distillery, but to market it exclusively via the worldwide distribution partners.
.
The first Madeira Cask Matured Limited Release was released in 2015 and was a great success. With this release and the numerous single cask bottlings that followed, whether as a finish or full maturation, it was shown that the Kilchoman distillate develops particularly well in Madeira casks, in our opinion only topped by some Kilchoman bourbon cask and STR cask maturations.
According to Anthony Wills, when selecting the casks for the so-called "experimental cask editions" (Port, Madeira, Sauternes, STR, Red Wine etc.), he always tries to show how the Kilchoman whisky develops in different types of casks on the one hand, and on the other hand, to preserve the basic Kilchoman character. Therefore, he usually either bottles relatively young, first-filled casks or achieves the goal by finishing whiskies previously stored in bourbon casks.
Without anticipating our detailed tasting notes too much, we can already state after the first tasting of a sample at the Kilchoman Christmas Online Tasting that Anthony has clearly achieved the goal he set himself with this edition. The whisky shows nice Madeira cask tones (of sultanas, plums, walnuts, dark chocolate), but has clearly remained a Kilchoman whisky with distinct notes of citrus, cooked yellow fruits and maritime peat smoke.
For lovers of more dominant Madeira cask influence, some Kilchoman single cask bottlings such as the Madeira Finish Single Cask for Whizita or the Madeira Finish Single Cask Uniquely Islay – An Samhradh 2021 are recommended.