Taste Guide: Madeira Cask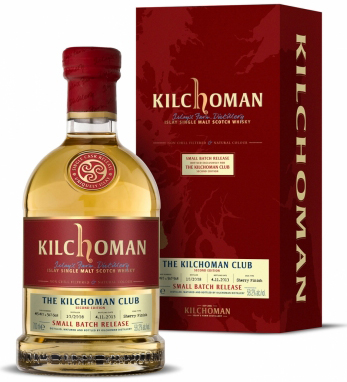 The first Madeira Cask Release by Kilchoman was released on 1 December 2014 exclusively for members of the Kilchoman Club. For this 3rd Club Release, two fresh Madeira casks were selected that had been filled on 11 February 2010.
Anthony Wills wrote about this release: »We filled a small number of Madeira casks in early 2010 as a bit of an experiment and we are very happy with the results; the strong, robust Madeira maturation has certainly made its presence felt, that said the spirit retains a lot of the classic Kilchoman characteristics.
I wanted to offer our members something they wouldn't have tried from us before. It's a shame we couldn't have made more bottles available but we need to retain some stock for future releases.«
The first Madeira Cask Matured Limited Release followed a year later on 5 October 2015. Distilled at the beginning of 2011, the whisky was stored in Madeira casks for over 4 years. Bottled were 6,100 bottles with an alcohol content of 50% abv.
Since then, Madeira Finish bottlings for different countries have followed relatively regularly, with different Madeira finishing periods ranging from 6 weeks to two years. A good twenty bottlings have been released worldwide to date, which allow Kilchoman aficionados to very well understand the Madeira cask influence on the maturation.
Several bottlings with Madeira cask content have also appeared within the Small Batch range for selected markets, the concept of which is known to illustrate the influence of different "experimental" cask types on Kilchoman whisky.
Finally, in March 2022, the second Madeira Cask Matured Limited Release followed with an edition of 17,000 bottles. This bottling was supposed to be released in autumn 2021, but due to a shortage of empty Kilchoman bottles, the release had to be postponed to the beginning of 2022 – with the exception of some markets (e.g. Sweden), which had already been supplied before the bottle problem.
This second Kilchoman Madeira Cask Matured Release is a vatting of 46 fresh Madeira Hogsheads, in which the whisky distilled in May 2016 could mature for more than 5 years.
.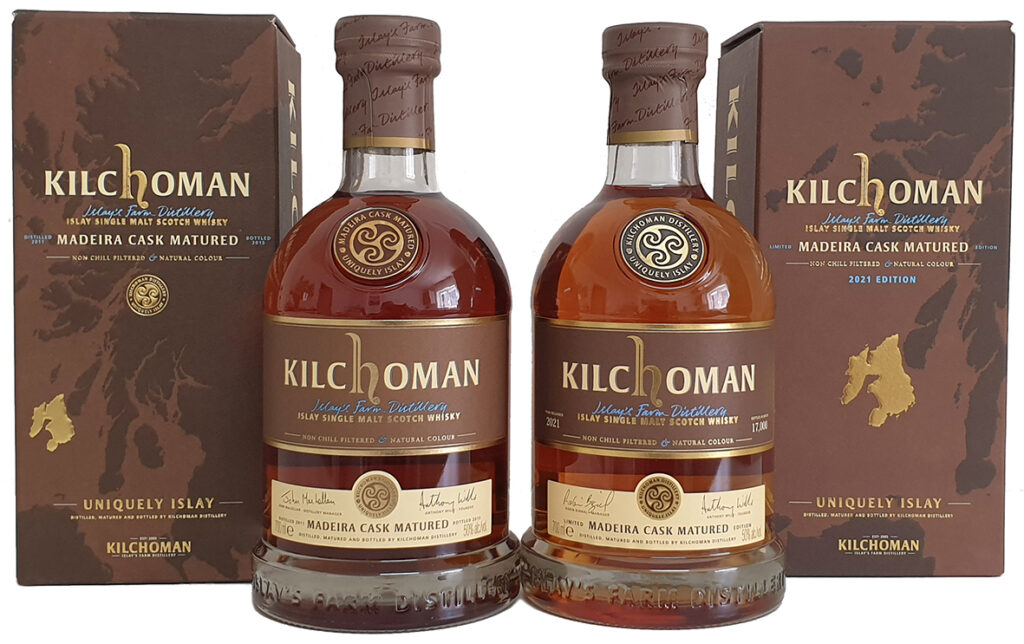 .
Kilchoman Madeira Cask Releases (finish and full maturation)
Release
Cask No.
Cask Filled
Bottled
Maturation
Small Batch Release for The Kilchoman Club, 3rd Edition
65/2010, 66/2010
11.02.2010
24.11.2014
full maturation: 4 years
Madeira Cask Matured Release
2011
2015
full maturation: 4 years
Madeira Single Cask for The Distillery Shop
69/2010
11.02.2010
01.03.2018
full maturation : 8 years
Madeira Matured Single Cask for SMCC
67/2010
11.02.2010
22.04.2019
full maturation: 9 years
100% Islay Madeira Matured Single Cask for Taiwan
116/2012
15.03.2012
03.05.2019
full maturation: 7 years
100% Islay Madeira Matured Single Cask for Y´s Cask, Toko – Tokyo
117/2012
15.03.2012
29.07.2019
full maturation: 7 years
Madeira Matured Single Cask for Bar Top Note
70/2010
11.02.2010
29.07.2019
full maturation: 9 years
Madeira Cask Matured 2021 Edition
May 2016
2021/2022
full maturation: 5 years
Single Cask Volume 1: 6 week Madeira Finish (Viking Cinderella Whiskyfair 2019)
445/2011
28.07.2011
27.08.2018
Finish: 6 weeks
Single Cask Volume 2: 6 month Madeira Finish (Viking Cinderella Whiskyfair 2019)
445/2011
28.07.2011
16.01.2019
Finish: 6 month
Madeira Finish Single Cask for Holy Dram Israel
180/2012
12.04.2012
14.02.2019
Finish
Madeira Finish Single Cask for La Société des Alcools du Québec
523/2011
01.09.2011
20.02.2019
Finish
Madeira Finish Single Cask for Spec´s
763/2011
09.12.2011
07.04.2019
Finish: 7 month
Madeira Finish Single Cask 7 yo for The Distillery Shop
521/2011
01.09.2011
10.04.2019
Finish: 7 month
Madeira Finish Single Cask for Bresser & Timmer
81/2012
01.03.2012
22.04.2019
Finish: 7 month
Madeira Finish Single Cask for 2019 Taoyuan Whisky Taste
529/2011
01.09.2011
04.05.2019
Finish: 8 month
Twin Cask Release Madeira Finish for Prima Vinum
528/2011 & 764/2011
01.09.2011
09.12.2011
03.06.2019
Finish: 8 month
Madeira Finish Single Cask for Greek Whisky Association
183/2012
12.04.2012
17.06.2019
Finish
Madeira Finish Single Cask for Gold Medal Marketing Inc. Alberta, Canada
766/2011
09.12.2011
12.08.2019
Finish: 11 month
Madeira Finish Single Cask 7 yo for The Distillery Shop
179/2012
12.04.2012
19.08.2019
Finish: 16 month
Madeira Finish Single Cask for Mizunara, Hong Kong
767/2011
09.12.2011
01.10.2019
Finish: 1 year
Madeira Finish Single Cask for Whisk-e Ltd, Japan
526/2011
01.09.2011
25.10.2019
Finish
Madeira Finish Single Cask for Tiger´s Finest Selection
178/2012
12.04.2012
2019
Finish
Madeira Finish Single Cask for Bulgaria
182/2012
12.04.2012
24.01.2020
Finish: 18 month
Madeira Finish 8 yo Single Cask for Warehouse Liquors (Chicago)
83/2012
01.03.2012
01.03.2020
Finish: 18 month
Madeira Finish Single Cask [Online Shop Exclusive]
765/2011
09.12.2011
03.04.2020
Finish: 19 month
Madeira Finish Single Cask for Cask Norway
184/2012
12.04.2012
12.04.2020
Finish: 19 month
Madeira (Finish) Single Cask (Uniquely Islay Series – An t-Earrach 2020 #1/9)
181/2012
12.04.2012
30.04.2020
Finish: 19 month
Madeira (Finish) Single Cask (Uniquely Islay Series – An t-Earrach 2020 #2/9)
185/2012
12.04.2012
30.04.2020
Finish: 19 month
Madeira Finish Single Cask for Whizita
768/2011
09.12.2011
05.11.2020
Finish: 2 years
Madeira (Finish) Single Cask (Uniquely Islay Series – An Samhradh 2021 #2/9)
79/2012
01.03.2012
17.06.2021
Finish: 2 years
UK Small Batch No. 1
29.10.2019
70% Bourbon, 5% Oloroso Sherry, 25% Madeira
USA Small Batch No. 2
18.02.2020
70% Bourbon, 5% Oloroso Sherry, 25% Madeira
Japan Small Batch No. 1
2020
70% Bourbon, 5% Oloroso Sherry, 25% Madeira
The Netherlands Small Batch No. 2
08.07.2020
70% Bourbon, 5% Oloroso Sherry, 25% Madeira
Finland Small Batch No. 3
16.03.2021
70% Bourbon, 5% Oloroso Sherry, 25% Madeira
USA Small Batch No. 4
2021
65% Bourbon, 5% Oloroso Sherry, 30% Madeira