Kilchoman PX Finish Single Cask 450/2011 for Sweden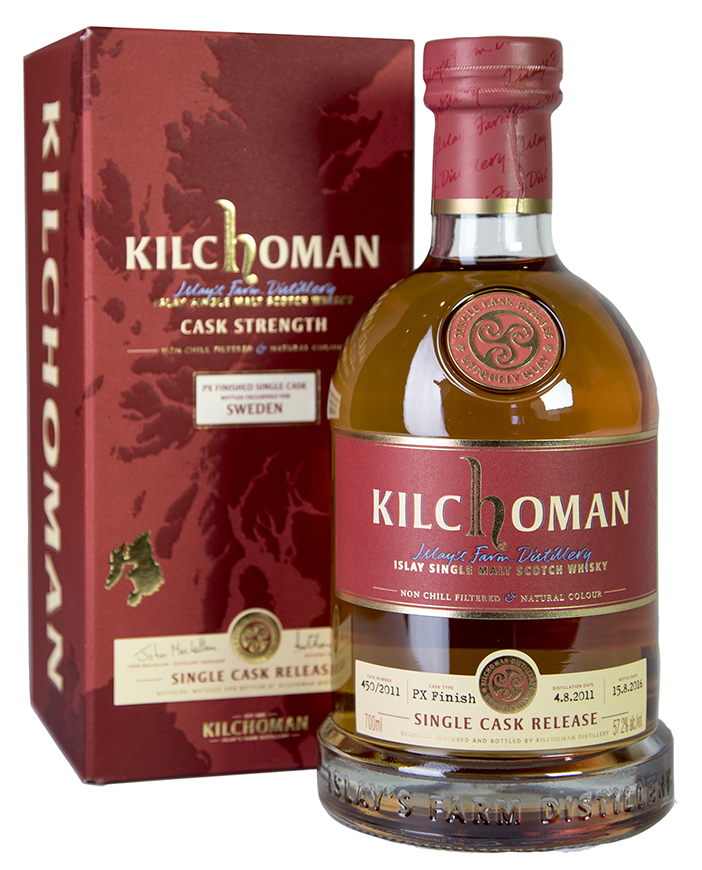 Cask No.: 450/2011
Cask type: Ex-Bourbon Barrel, PX Sherry Finish for 5 month
Distillation Date: 4.8.2011
Bottling Date: 15.8.2016
Age: 5 yo
Strength: 57,2% abv
Phenol level: 50 ppm
Number of bottles: 261
Bottle size: 0,7 l
Market: Sweden
.
On October 21, 2016, this single cask release for the Swedish market was added to the temporary assortment of Systembolaget, the state-owned company that holds the monopoly on retail sales of alcoholic beverages in Sweden, and was sold out within a very short time.
After four and a half years in an ex-bourbon barrel, the whisky was aged for 5 months in a PX Hogshead.
In October 2016, Anthony Wills, the founder of Kilchoman, together with Peter Kokovic, Business Area Manager Enjoy Wine & Spirits Sweden, who launched the above exclusive release for Sweden, went on a mini-promotional tour in Sweden. Together they visited Nyköping, Söderköping and Mjölby to hold whisky tastings for local whisky clubs.