Kilchoman Sherry Cask Finished Octave 568/2010 for Milroy´s of Soho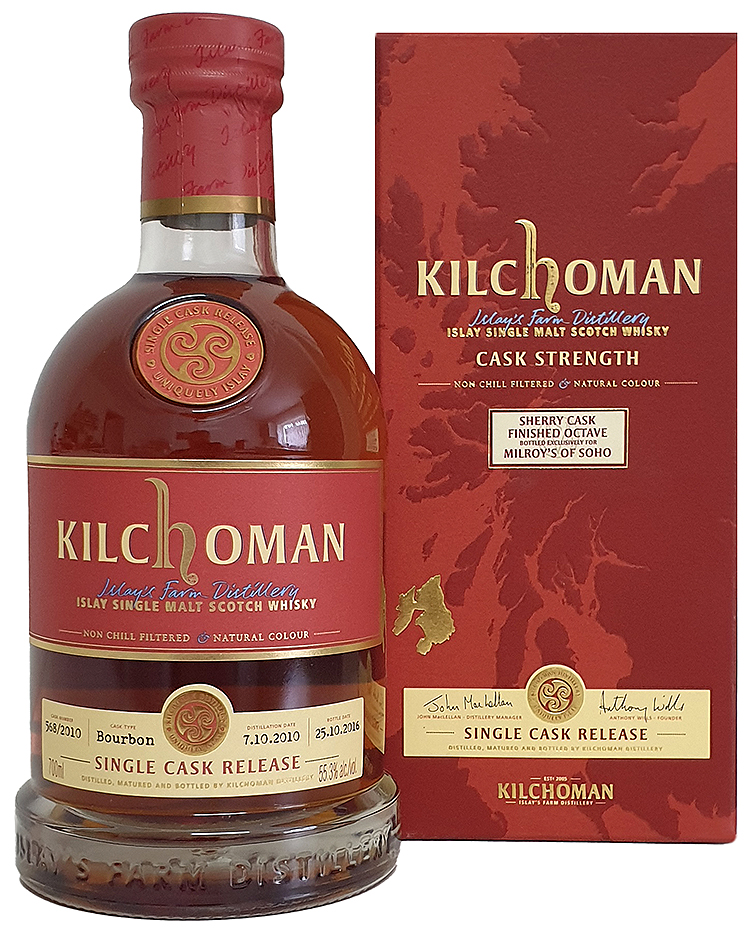 Cask No.: 568/2010
Cask type: Bourbon Octave (recte: Quarter) Cask, Oloroso Cask Finish
Date Filled: 7.10.2010
Date Bottled: 25.10.2016
Age: 6 yo
Strength: 55,3 % abv
Phenol level: 50 ppm
Number of bottles: 128
Bottle volume: 0,7 l
Bottle code: 586/10 25/10/16
Market: UK
.
In October 2010, Kilchoman filled a good 100 so-called Quarter Casks for the first time, which had been made for the distillery by a cooperage from bourbon cask staves.
Quarter casks, as the name suggests, are only about a quarter of the size of a 500-litre cask. The much larger surface area of the cask compared to its volume leads to more intensive contact with the wood of the maturing distillate. For this reason, some distilleries like to use quarter casks for finishing whisky.
On 26 September 2016, the "Original Cask Strength – Quarter Cask Matured Release" was released, for which 95 of the casks were bottled with an edition of 12,000 bottles.
The few casks not used for the Quarter Cask Matured Release were not further matured – in this case there was a risk that the whisky would very quickly have tasted extremely woody – but either subjected to a sherry finish – like the bottling for Milroy's of Soho recorded here – or – somewhat curiously – decanted in bourbon barrels.
The Milroy´s of Soho bottling confusingly bears the cask designation Octave Cask, the terms Quarter Cask and Octave Cask are handled very inconsistently not only by Kilchoman. Normally, a cask with a capacity of about 50 litres is called an Octave. It remains to be said that Kilchoman always uses casks with a volume of about 100 litres, regardless of whether Octave or Quarter Cask is written on the label.
.