Kilchoman Small Batch for Germany (2016) – PX Finish & Oloroso Sherry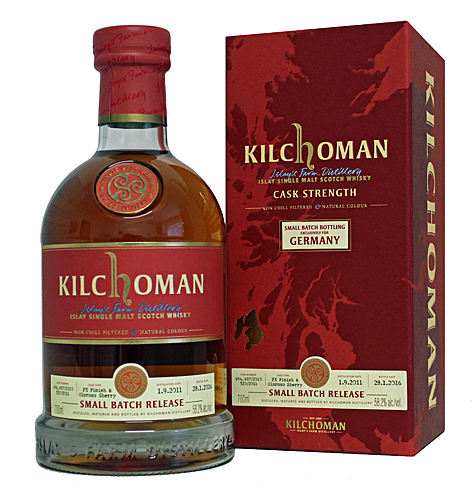 Cask Nos.: 696/2010, 697/2010, 520/2011
Cask type: 2 Bourbon Barrels, PX-Finish (696/2010 und 697/2010), Oloroso Sherry Cask (520/2011)
Distillation Dates: (4.11.2010 and) 1.9.2011
Bottling Date: 28.1.2016
Strength: 58,2 % abv
Phenol level: 50 ppm
Number of bottles: 894
Bottle size: 0,7 l
Distribution: from February 2016 exclusively in Germany
.
In February 2016, Kilchoman and Alba-Import delighted the German fans with a new bottling exclusively distributed in Germany, the "Small Batch for Germany PX Finish & Oloroso". This bottling was a small novelty. On the one hand, PX finishes of ex-Bourbon barrels have been one of the main focuses of Kilchoman single cask bottlings in the last 2 years and on the other hand Kilchoman whiskies from Oloroso sherry casks are very common. But there has never been a combination of both sherry varieties to taste before.
For the release, two Bourbon barrels filled on 4.11.2010, which received a PX finish after 5 years of storage, and one Oloroso Sherry Cask filled on 1.9.2011, were married and bottled on 28.1.2016. Unfortunately Kilchoman presents this fact on the carton and bottle label in a very misleading way: here one must conclude that two barrels otherwise used for PX finishing, that would be PX and not Bourbon casks, were used.
894 bottles were filled with an alcohol content of 58.2%. The number of bottles immediately raises the next question. Two Bourbon Barrels and one Oloroso Sherry Butt should result in about 1150 bottles at the indicated storage time. Kilchoman also uses Sherry Hogsheads, but this would only result in about 800 bottles. Possible explanations could be that something went wrong during decanting, or it wouldn't be the first time Kilchoman divided the contents of a sherry butt and used it for several different bottlings.
.
Tasting Notes
Colour: red gold
Nose: very sweet, at first hardly smoky, clear sherry notes, very spicy, then yellow fruits and citrus in the background, at the very end also coconut, nut and honey
Taste: very sweet, oily, medium smokiness, pungent; also here clear sherry notes more of PX than Oloroso character, apricots, leather, alcohol well integrated
Finish: long, dry, spicy, warming, slightly bitter and metallic at the end
Conclusion: delicious, great nose, taste seems to me not quite balanced and round: the Oloroso goes down quite well