Kilchoman 100% Islay – 10th Edition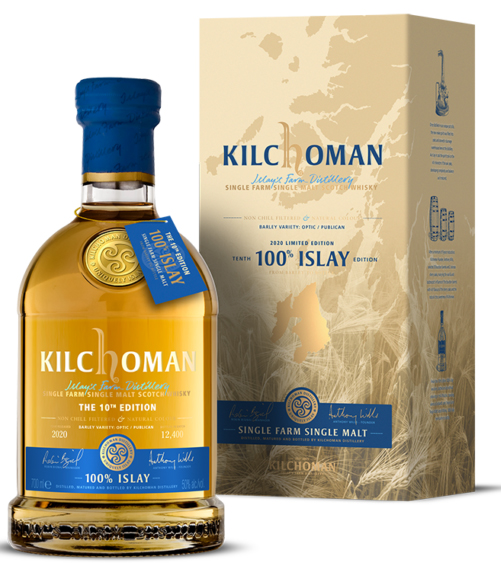 Fassart: Bourbon Barrels, Oloroso Sherry Butts
Fässer befüllt: 2008, 2010, 2011
Flaschenabfüllung: 08 & 09/2020
Alter: 9 Jahre
Alkoholstärke: 50,0 %
Phenolgehalt: ca. 20 ppm
Flaschenanzahl: 12.400 Flaschen
Flaschengröße: 0,7 l / 0,75 l
Bottle Code:
100 28.08.20 20/101
Vertrieb: weltweit
.
Die am 16. September 2020 erstmals erschienene 10. Ausgabe der 100% Islay-Reihe ist ein Vatting von 39 Ex-Bourbon Barrels und zwei Oloroso Sherry Butts, die für über 9 Jahre in den Kilchoman-Lagerhäusern reiften. Es handelt sich hierbei um Whisky, der aus Gerstenmalz der Sorten Optic und Publican destilliert wurde, die auf der Rockside Farm in den Jahren 2007, 2009 und 2010 geerntet wurden. Wie bei der 100% Islay-Reihe üblich beträgt der Alkoholgehalt 50,0 % abv. Die Auflagenhöhe beträgt 12.400 Flaschen.
Zum 2. Mal in der Geschichte der 100% Islay-Reihe ist die diesjährige Ausgabe keine reine Bourbonfass-Reifung, sondern es wurden wie im Jahre 2018 ebenfalls Sherryfässer verwendet. Im Unterschied zum Sherryanteil von ca. 40% der 2018er Ausgabe, die bekanntlich einige Kontroversen unter den Kilchoman-Fans auslöste, beträgt der diesjährige Anteil gut 10 %. Dies ist sicher nicht zufällig der Sherryfassanteil, den Anthony Wills in der Vergangenheit schon mehrfach als ideal für Kilchoman-Whiskies bezeichnet hatte.
"The Optic and Publican varieties used for the 10th Edition, paired with a light peat smoking, long fermentation and high spirit cut creates a bright, floral nose of citrus sweetness that gives way to prunes, cinnamon and cooked apples & pears on the palate. The finish brings waves of mildly spiced peat smoke, lasting sweetness and rich sherry notes" Anthony Wills, Kilchoman Founder & MD
.