Ankündigung der 9. Ausgabe des 100% Islay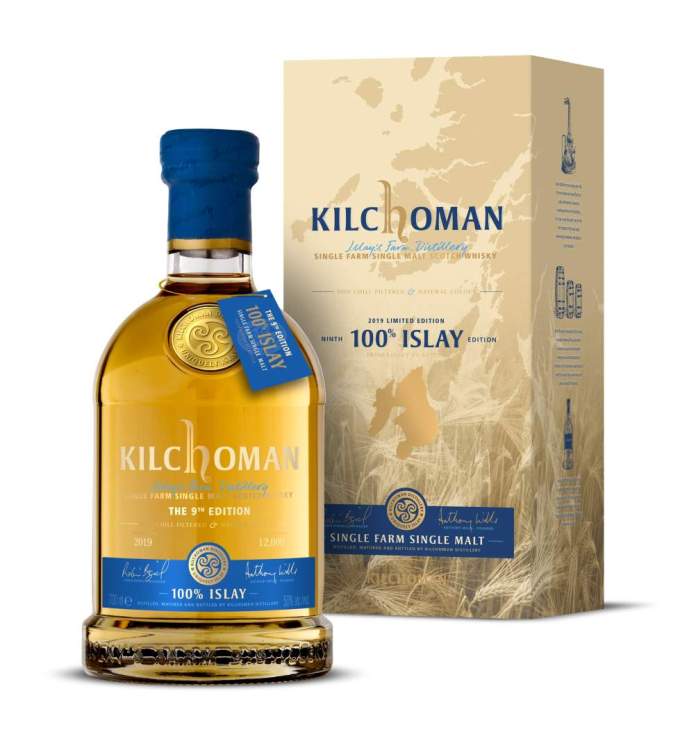 Besonders die Liebhaber der 100% Islay-Reihe – zu denen praktisch alle Kilchomania-Macher gehören – wird die Ankündigung der neuesten Ausgabe für den 12. September 2019 freuen. Die 9. Ausgabe ist ein Vatting von 43 Ex-Bourbon Barrels die für über 9 Jahre in den Kilchoman-Lagerhäusern reiften. Es handelt sich hierbei um Whisky, der aus Gerstenmalz der Getreideernten von 2007 und 2009 destilliert wurde. Wie bei der 100% Islay-Reihe üblich beträgt der Alkoholgehalt 50,0 % abv. Die Auflagenhöhe beträgt 12.000 Flaschen. Der Ausgabepreis in Großbritannien 71.94 Pfund.
Mit der diesjährigen Ausgabe kehrt Kilchoman zur reinen Bourbonfass-Reifung zurück, die alle bisherigen 100% Islay-Ausgaben mit Ausnahme der letztjährigen auszeichnete. Wie Anthony Wills selbst mehrfach betonte harmoniert der mit 20 ppm deutlich leichter getorfte 100% Islay außerordentlich gut mit Bourbonfässern, viele der Kilchoman-Fans, die die letztjährige Ausgabe mit ca. 40% Sherryanteil kritisierten und stattdessen eine eigene reine 100% Islay-Sherryfass-Release wünschten (diese Kombination ist ja bekanntlich bisher nur sehr selten als Single Cask Release zu haben), werden sich sicher freuen.
"Our 100% Islay spirit pairs seamlessly with ex-bourbon barrels. The lower peating level (20ppm) allows the natural floral sweetness of the spirit to shine through whilst a higher age profile adds layers of overripe tropical fruit and stewed plums whilst the high ABV makes it no lightweight. I'm delighted with how the 9th Edition has come together and as ever, I look forward to hearing people's opinions" Anthony Wills, Kilchoman Founder & MD
Unsere Verkostungsnotizen insbesondere der interessante Vergleich zur letztjährigen Ausgabe findet sich hier.