Loch Gorm 2023 erschienen
Die Kilchoman Destillerie kündigte heute das Erscheinen des diesjährigen Loch Gorm an. Die nach dem nahe der Destillerie gelegenen See benannte Abfüllung ist wird bekanntlich ausschließlich in Sherryfässern gereift und ist traditionell die Limitierte Kilchoman Release, die als erste im Jahr erscheint.
Für die 2023er Ausgabe wählten Kilchoman Gründer Anthony Wills und Produktionsdirektor Robin Bignal wieder 22 Oloroso Sherry Butts aus. 8 Fässer aus dem Jahr 2013, 6 Fässer aus dem Jahr 2014 und 8 Fässer aus 2015 wurden miteinander verheiratet. Die 500 Liter Sherry Butts stammen wie immer bei Kilchoman aus der Bodega José y Miguel Martín und wurden mit Spirit befüllt, der einen Phenolgehalt von 50 ppm aufweist. Das auf 46% herunter verdünnte Vatting dieser 22 Fässer ergab eine Ausbeute von 18.000 Flaschen.
Die jährlichen Loch Gorm-Editionen unterscheiden sich bekanntlich von Jahr zu Jahr etwas in der Zusammensetzung der verwendeten Fässer. Mit zwei Ausnahmen in der Anfangszeit der Reihe wo auch Hogsheads zum Einsatz kamen, sind es immer Oloroso Sherry Butts, aber unterschiedlichen Alters und unterschiedlicher Anzahl von First Fill und Refill-Fässern. Anthony Wills und Robin Bignal verfolgten nach eigenen Aussagen mit der Zusammenstellung der Fässer das Ziel einen Whisky zu kreieren, der trotz der starken Sherrytöne erkennbar einen Kilchoman-Charakter aufweist.
"Rather than dominating, Loch Gorm's oloroso maturation works in harmony with the natural character of Kilchoman. The 2023 release has a fantastic spectrum of flavour, from rich spices and macerated peaches to fresh citrus, ginger, orange zest and waves of salty peat smoke." Anthony Wills, Kilchoman Founder.
.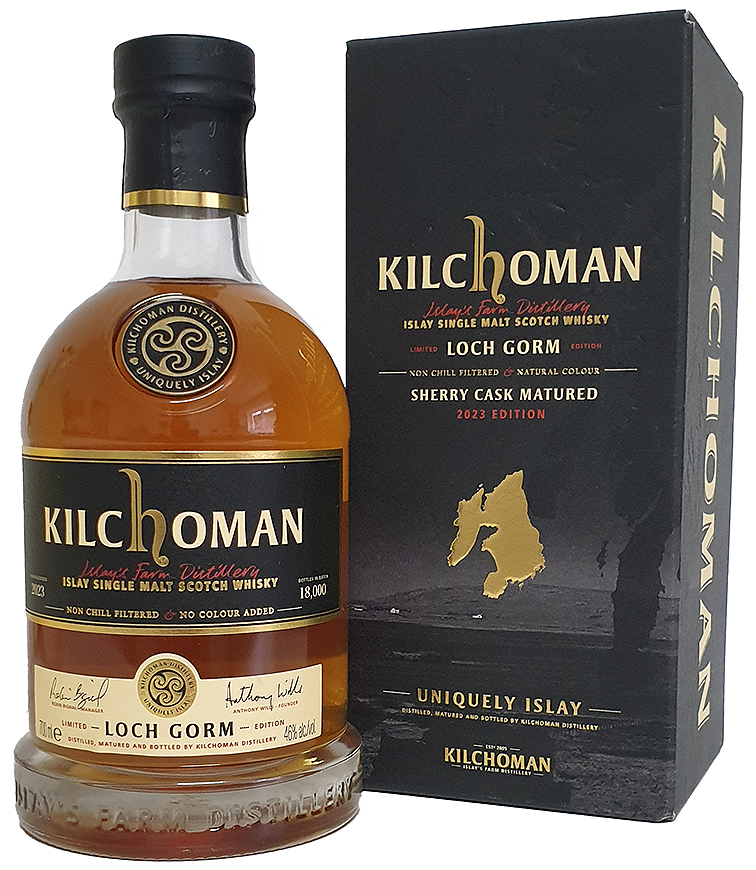 Fassart: Oloroso Sherry Butts
Fässer befüllt: 2013 – 2015
Flaschenabfüllung: 02 & 03/2023
Alter: 7 Jahre
Alkoholstärke: 46,0 %
Phenolgehalt: 50 ppm
Flaschenanzahl: 18.000 Flaschen
Flaschengrößen: 0,7 l / 0,75 l
Bottle Code: LG 23/3/23 23/20
Barcode: 5 060210 706661
Vertrieb: weltweit
.