Kilchoman Club Release 9th Edition angekündigt
Kilchoman kündigte heute das Erscheinen der jährlichen Exklusiv-Ausgabe für die Mitglieder des Kilchoman-Clubs an. Die nun schon 9. Edition wird, limitiert auf eine Flasche pro Person, am 18. November 2020 ab 15.00 Uhr deutscher Zeit auf der Kilchoman-Homepage zu erwerben sein.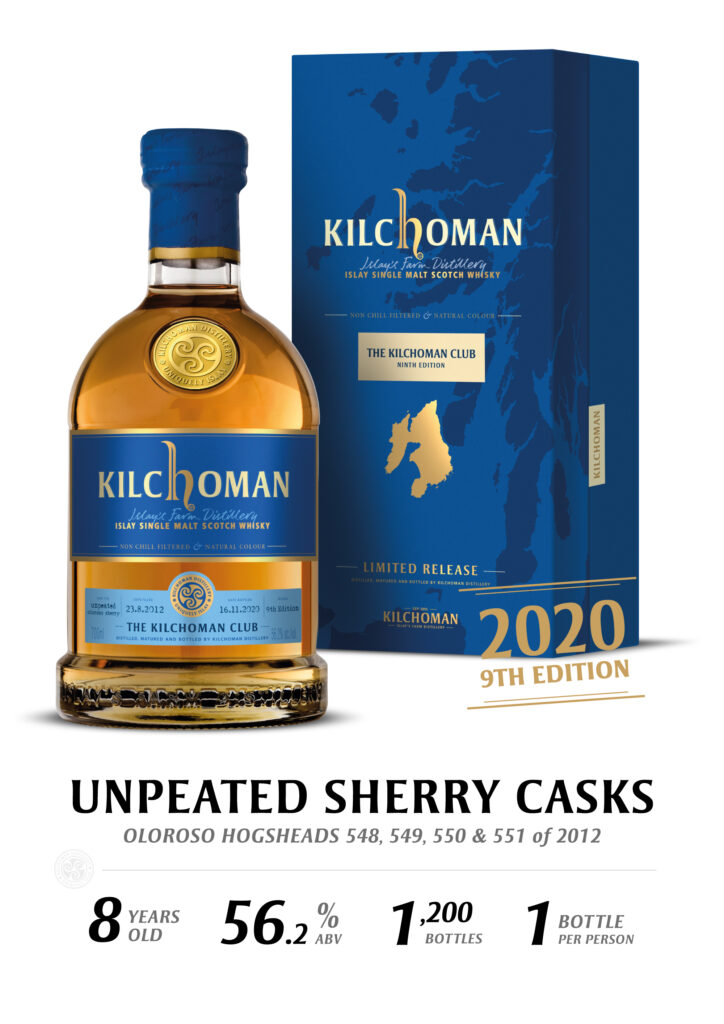 Kilchoman-Gründer Anthony Wills ist immer bestrebt, für die jährliche Club-Release etwas Besonderes, Neues oder noch nicht so Verbreitetes abzufüllen. In diesem Jahr entschied er sich für eine Small Batch von vier Oloroso Sherry Hogsheads mit ungetorftem Kilchoman-Whisky.
Kilchoman hat im Laufe der Jahre nur sehr sporadisch mit ungetorftem Malz aus farmeigener Gerste gearbeitet, einen etwas größeren Schwung (75 Fässer) produzierte man im Spätsommer 2012 als die zum Torfen des Malzes benötigte Kiln einen Defekt hatte. Abfüllungen mit "ungetorftem" Kilchoman-Whisky sind daher sehr selten, die ersten beiden erschienen Anfang 2020 (wir berichteten) und bis heute sind erst eine Handvoll sowohl aus Oloroso Sherry Hogsheads als auch aus Bourbon Barrels erschienen.
Kilchoman ermöglicht mit der diesjährigen Club Release nun also einem etwas größeren Interessentenkreis "ungetorften" Kilchoman-Whisky zu kosten. Destilliert im August 2012 aus farmeigener Gerste (100% Islay) der Sorte Publican lagerte der Whisky 8 Jahre lang in vier frischen Oloroso Hogsheads und wurde im November 2020 abgefüllt. Die Ausbeute betrug 1.311 Flaschen mit einem Alkoholgehalt von 56,2%. Die Flaschen kosten £99.60 + Versand.
Kilchoman schreibt "ungetorft" meist in Anführungszeichen oder verwendet den Begriff "slightly peated", weil trotz der Verwendung ungetorften Malzes, der Whisky noch ganz leichte Torfrauchnoten aufweist. Bekanntlich werden beim Destillieren die vom Mittellauf abgetrennten Foreshots und Feints im »low wines und feints receiver« gesammelt und bei den nächsten Brenndurchgängen abermals mit destilliert. Da dieser Sammelbehälter nach den abwechselnd laufenden Brenndurchgängen mit getorftem Malz nicht aufwendig zwischendurch geleert wird, weist das Destillat noch leichte Torfrauchnoten auf.
Erst durch das neue und separat betriebene 2. Paar Stills, das vor einem guten Jahr in Betrieb genommen wurde, hat Kilchoman nun übrigens die Möglichkeit in Zukunft echten ungetorften Whisky zu produzieren aber auch mit stärker getorftem Malz etc. zu experimentieren.
"We only filled a handful of casks with unpeated 100% Islay spirit over the past 15 years and it was always going to be fascinating how they developed differently from the usually peated malt. Although faint notes of peated spirit from the previous sprit runs can be found in the whisky, it is overridden on the palate with strong spice, bold fruits and coastal flavours" Anthony Wills, Kilchoman Founder and Master Distiller.