Kilchoman Pedro Ximénez Sherry Cask Finish for The W Club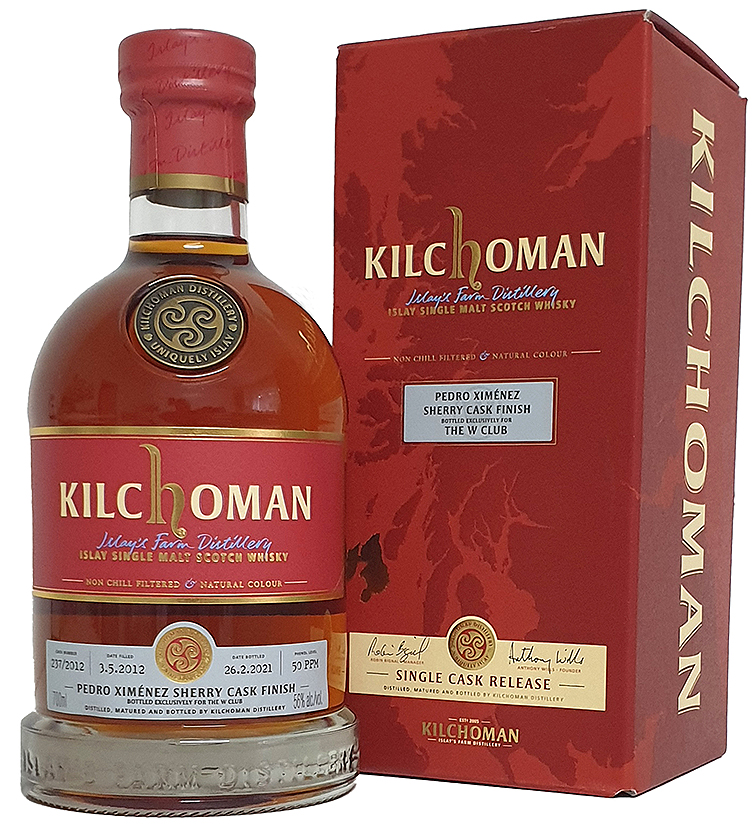 Im April erschien eine Kilchoman PX Sherry Cask Finish Release exklusiv für den W Club, den Kundenclub der bekannten britischen Spirituosenkette The Whisky Shop.
Der Whisky lagerte zunächst fast 8 Jahre lang in einem 1st Fill Ex-Bourbon Barrel und wurde darauf für 13 Monate in einem PX Sherry Hogshead gefinisht. Diese vergleichsweise lange Nachreifungszeit verlieh dem Whisky einen sehr deutlichen Pedro Ximénez Sherry Charakter, der alle anderen Geschmacksnoten dominiert.
.
Fass-Nr.: 237/2012
Fassart: 1st Fill Ex-Bourbon Barrel, PX Sherry Cask Finish
Fass befüllt: 3.5.2012
Flaschenabfüllung: 26.2.2021
Alter: 8 Jahre
Alkoholstärke: 56,0 %
Phenolgehalt: 50 ppm
Flaschenanzahl: 258 Flaschen
Flaschengröße: 0,7 l
Vertrieb: Großbritannien
.