Kilchoman Private Single Cask 68/2007 for J. Ronald Vehorn – The Road Monk Share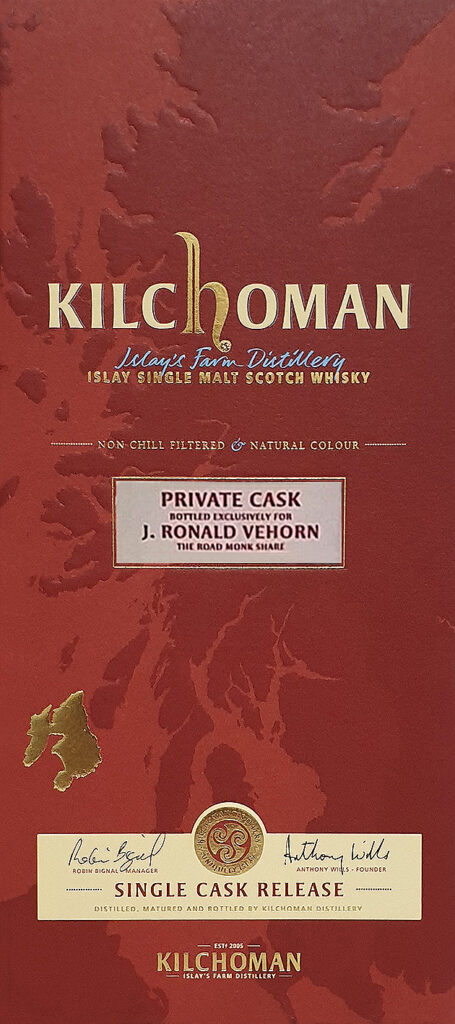 Fass-Nr.: 68/2007
Fassart: Ex-Bourbon Barrel
Fass befüllt: 7.3.2007
Flaschenabfüllung: 18.3.2019
Alter: 12 Jahre
Alkoholstärke: 56,0 %
Phenolgehalt: 50 ppm
Flaschenanzahl: 180
Flaschengröße: 0,75 l
Vertrieb: Private Cask – USA
.
In den Jahren 2006 und 2007 verkaufte Kilchoman zahlreiche frisch befüllte Fässer an Privatpersonen um in den finanziell schwierigen Anfangsjahren dringend benötigtes Kapital für den Betrieb der Destillerie zu bekommen. Dies waren fast ausschließlich 1st Fill und 2nd Fill Bourbon Barrels.
Als es Kilchoman finanziell wieder besser ging, bemühte man sich darum möglichst viele dieser Fässer wieder zurückzukaufen, aber nur wenige Fasseigentümer gingen auf dieses Angebot ein.
Da im Kaufpreis Versicherung und Lagerkosten für 10 Jahre mit enthalten waren, erlebte man 2016 und 2017 eine große Welle von Kilchoman Private Cask Abfüllungen.
Dies ist eine dieser Abfüllungen. Der US-amerikanische Besitzer J. Ronald Vehorn – alias The Road Monk bzw. The Traveling Writer – ließ sein Fass allerdings erst mit 12 Jahren abfüllen. Einen Teil der Auflage verkaufte er über seine Firma The Road Monk, Inc.