Kilchoman Club Release 3rd Edition (2014)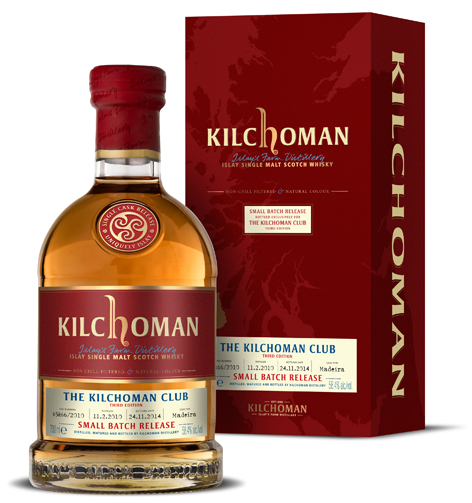 Fass-Nrn.: 65/2010, 66/2010
Fasstyp: Madeira Casks
Fässer befüllt: 11.02.2010
Abgefüllt: 24.11.2014
Alter: 4 Jahre
Alkoholstärke: 58,4 %
Phenolgehalt: 50 ppm
Flaschenanzahl: 610 Flaschen
Flaschengröße: 0,7 l
Vertrieb: Online nur für Mitglieder des Kilchoman-Club
.
Die dritte Club-Release, die am 1. Dezember 2014 exklusiv für Mitglieder des Kilchoman Club im Online-Shop der Destillerie für 75 Pfund erworben werden konnte, stellte etwas ganz Besonderes dar. Es handelte sich dabei um den ersten in Madeira-Fässern gereiften Kilchoman. Destilliert am 11. Februar 2010 und abgefüllt am 24. November 2014 lagerte der Whisky über 4 Jahre in zwei frischen Madeira Fässern. Die Auflage betrug 610 Flaschen, abgefüllt in Fasstärke von 58,4% abv.
Anthony Wills schrieb zum Erscheinen dieser Release: »We filled a small number of Madeira casks in early 2010 as a bit of an experiment and we are very happy with the results; the strong, robust Madeira maturation has certainly made its presence felt, that said the spirit retains a lot of the classic Kilchoman characteristics.
I wanted to offer our members something they wouldn't have tried from us before. It's a shame we couldn't have made more bottles available but we need to retain some stock for future releases.«
.