Kilchoman 100% Islay 7th Edition erschienen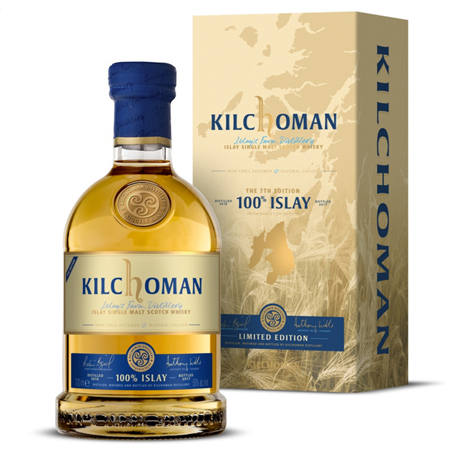 Am gestrigen 1. Mai hat Kilchoman die »100% Islay 7th Edition« veröffentlicht. Die diesjährige Abfüllung der Reihe wurde im Jahr 2010 destilliert und lagerte über 7 Jahre in First- und Refill Ex-Bourbon-Fässern, sie stellt also die bisher am längsten gereifte Ausgabe der »100% Islay«-Releases dar.
Produktions-Manager Robin Bignal schreibt dazu: »The development of the 100% Islay casks from the Inaugural release up to this, the oldest 100% Islay release, has been intriguing to see. As the bourbon barrel maturation influences the spirit over time it has taken on a real depth of character and complexity to add to the light citrus fruit and peat smoke of the Kilchoman spirit.«
.
Fassart: Fresh and Refill Bourbon Barrels
Fässer befüllt: 2010
Flaschenabfüllung: 04/2017
Alter: 7 Jahre
Alkoholstärke: 50,0 %
Phenolgehalt: ca. 20 ppm
Flaschenanzahl: unbekannt
Flaschengröße: 0,7 l / 0,75 l
Bottle Code: 100 21.04.17 17/38
Barcode: 5 060210 701253
Vertrieb: weltweit
.
Geschmacksnotizen
Farbe: helles Gold
Nase: trockener Torfrauch eher dezent, dahinter erst leicht und frisch wirkende Birnenkompott-Süße (das ist nicht so die Erdbeere – d.h. typische aber abgeschwächte Kilchoman-Note), dann kommen aber auch schnell Vanille, Kokos, Honig und Nuss zum Vorschein, und dunklere Töne: etwas Bohnerwachs und recht deutlich (bei Wasserzugabe) feuchte Sägespäne
Geschmack: ölig, sehr süß, Erdbeere (hier mehr als in der Nase) und gelbe Früchte, deutlich moussierend, würzig, auch hier etwas Honig und Nuss, leicht bitter am Ende, kaum metallisch
Abgang: mittellang, wärmend, würzig, nur sehr leichte Bitterkeit
Fazit: sehr süffig, weiterer deutlich wahrnehmbarer Altersschritt: Honig, Nuss und sogar schon Bohnerwachs, dieses Mal kaum bitter; im Ganzen viel komplexer als die Anfänge der Serie (HPN 26.5.2017)