Kilchoman Single Quarter Cask 582/2010 for Master of Malt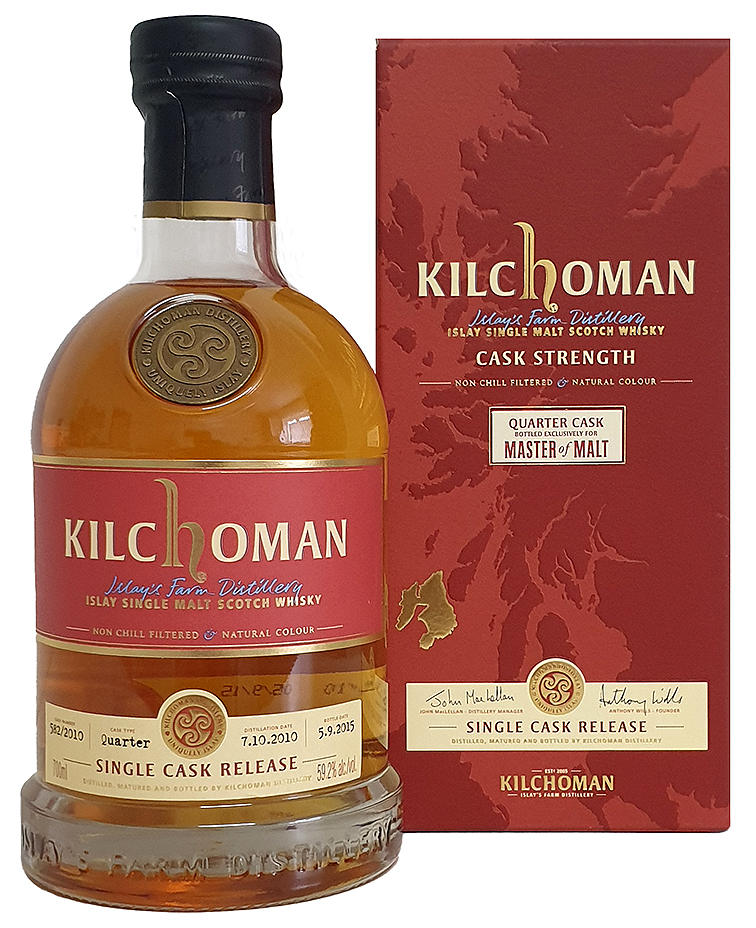 Fass-Nr.: 582/2010
Fassart: Bourbon Quarter Cask
Fass befüllt: 7.10.2010
Flaschenabfüllung: 5.9.2015
Alter: 4 Jahre
Alkoholstärke: 59,2 %
Phenolgehalt: 50 ppm
Flaschengröße: 0,7 l / 0,03 l
Flaschenanzahl: 129
Bottle Code: 582/10 05/9/15
Vertrieb: Großbritannien
.
Im Oktober 2010 befüllte Kilchoman erstmals gut 100 sogenannte Quarter Casks, die von einer Küferei aus Bourbonfassdauben für die Destillerie angefertigt worden waren.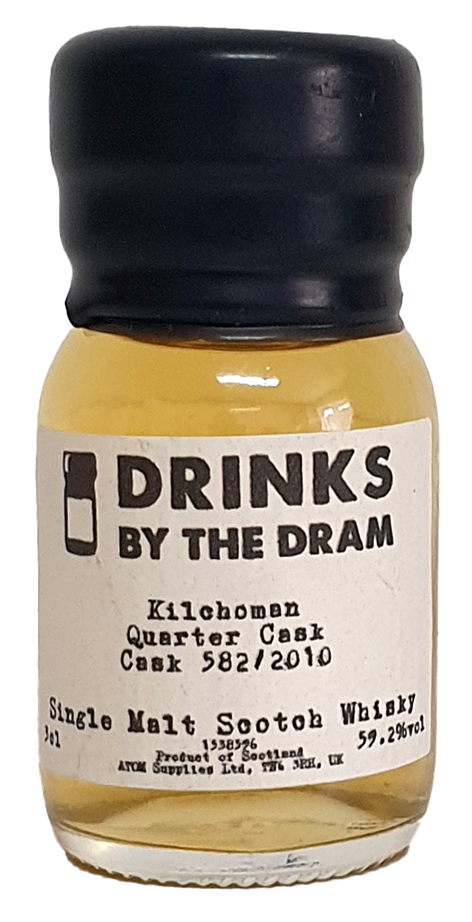 Quarter Casks weisen wie der Name schon sagt nur die Größe von knapp einem Viertel eines 500 Liter-Fasses auf, die im Vergleich zum Volumen deutlich größere Oberfläche des Fasses führt zu einem intensiveren Holzkontakt des reifenden Destillates. Aus diesem Grund werden Quarter Casks von einigen Destillerien gern zur Nachreifung verwendet.
Am 26. September 2016 erschien dann die »Original Cask Strength – Quarter Cask Matured Release« für die 95 der Fässer abgefüllt wurden mit einer Auflage von 12.000 Flaschen.
Davor und danach erschienen noch einige wenige Quarter Cask Einzelfassabfüllungen, darunter als zweite die hier verzeichnete Release für Master of Malt, die auch als 3 cl Sample im bekannten Weihnachtskalender The Premium Whisky Advent Calendar 2015 der Firma Drinks by the Dram enthalten war.
.
.
.